Blue Monday Lasagna
13 October 2017 — Dinner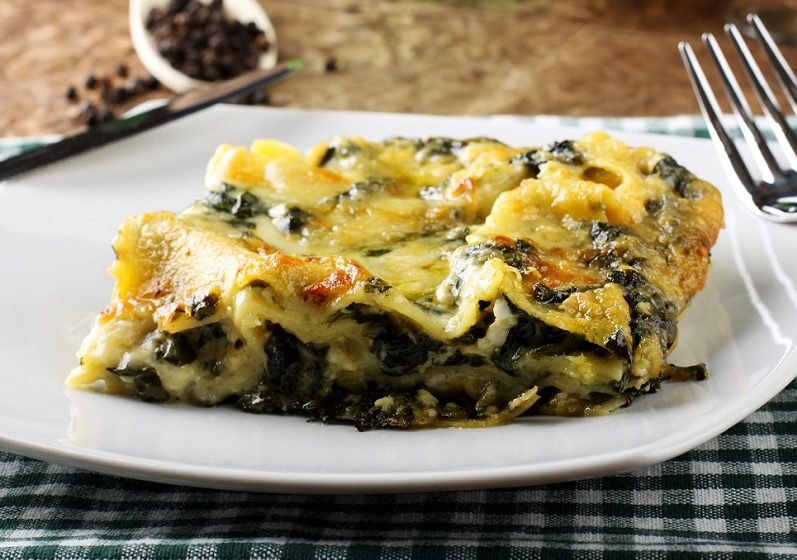 Ingredients
125g Fresh spinach
40g Basil, chopped
5 Pieces marinated artichoke, drained and chopped
250g Ricotta
180g Blue Monday
75g Butter
25g Plain flour
500 – 750g milk
Salt and pepper
Tablespoon English mustard
Pine nuts (optional)
How to make it
The spicy, steely and sweet tones of Blue Monday cheese make this lasagna really special. Serve with a green salad and you'll have your family singing all week!
Preheat the oven to 180°C (160°C fan oven) gas mark 4.
Melt the butter in a saucepan on a low heat then mix in the flour to make a roux. slowly mix in the milk until it becomes a smooth sauce.
Crumble the Blue Monday into the sauce. Season with black pepper and mustard.
Chop the spinach finely and put in a bowl with the basil, artichokes and ricotta. add 6 tablespoons of the cheese sauce and mix.
With these two mixtures, begin layering in an oven-proof dish, starting with the ricotta layer, then lasagna sheet, then cheese sauce. Repeat, ensuring that the cheese sauce is the final layer on the top.
Bake the lasagna for 40 minutes. As an option, sprinkle over pine nuts then bake for another 10-15 minutes until golden.
Alex James' Blue Monday can be bought individually as 180g wrap or 375g. It's also available in the Alex James Co. British Box of 4 and Box of 6. It's also in our Classic Tasting Box which is a perfect introduction to artisan cheeses.