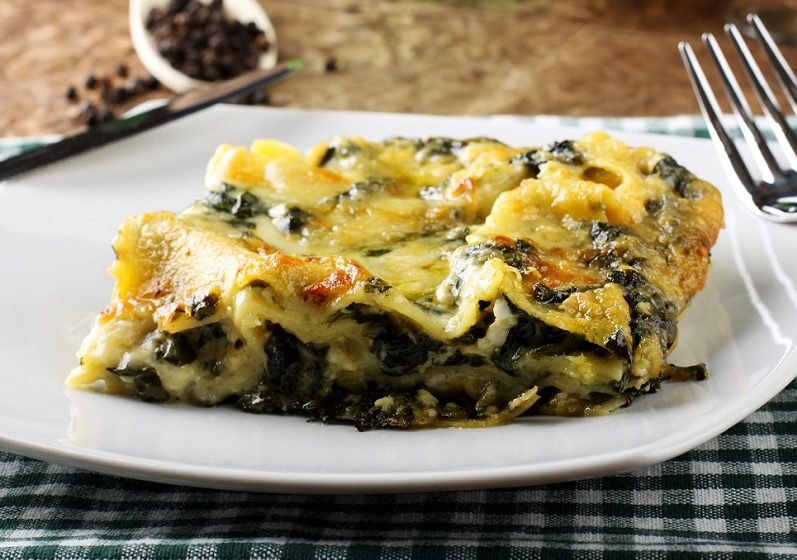 Ingredients
125g Fresh spinach
40g Basil, chopped
5 Pieces marinated artichoke, drained and chopped
250g Ricotta
180g  Yorkshire Blue
75g Butter
25g Plain flour
500 – 750g milk
Salt and pepper
Tablespoon English mustard
Pine nuts (optional)
How to make it
This sweet and salty Yorkshire blue makes this lasagne really special. Serve with a green salad and you'll have your family singing all week!
Preheat the oven to 180°C (160°C fan oven) gas mark 4.
Melt the butter in a saucepan on a low heat then mix in the flour to make a roux. slowly mix in the milk until it becomes a smooth sauce.
Crumble the blue cheese into the sauce. Season with black pepper and mustard.
Chop the spinach finely and put in a bowl with the basil, artichokes and ricotta. add 6 tablespoons of the cheese sauce and mix.
With these two mixtures, begin layering in an oven-proof dish, starting with the ricotta layer, then lasagne sheet, then cheese sauce. Repeat, ensuring that the cheese sauce is the final layer on the top.
Bake the lasagne for 40 minutes. As an option, sprinkle over pine nuts then bake for another 10-15 minutes until golden.
Yorkshire Blue can be bought individually as 180g piece, or as part of the Wallace and Gromit Cracking Cheese Box.
Other blue recipes:
Beef Wellington is a classic British that we've spruced up with a wonderful French blue cheese. Fourme d'Ambert AOC is creamy and rich which makes it ideal for a layer in a beef wellington, adding depth of flavour to every mouthful.
This Gorgonzola Pasta Bake has a crusty walnut and bread topping which makes it like a crumble. With added vegetables it's a great dinner option for the whole family.