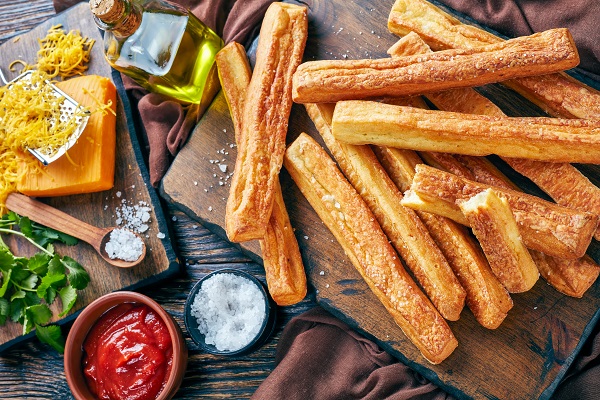 Ingredients
200g plain flour
1 1/4 tsp mustard powder
1 tsp salt
1/4 tsp cayenne pepper
120g unsalted butter, at room temperature
2 tsp water
How to make it
For a moreish snack, these Cayenne Cheddar Straws are just the ticket. Ideal for kids, parties, picnics or just as a savoury offering for when visitors pop over.
Sift the flour, mustard powder, salt and cayenne into a bowl
Using an electric mixer, beat the cheese and butter on low speed until well blended
Gradually beat in the flour until completely incorporated
Add the water and beat for 1 minute
Turn the dough out onto a lightly floured surface and knead 5 times
On a large sheet of greaseproof paper, roll the dough into a 12 by 9 inch rectangle
Slide the dough onto a baking sheet and refrigerate until chilled, about 15 minutes
Preheat the oven to 220°C (200 Fan°C)
Cut the dough in half crosswise, then cut it into thin strips
Bake one sheet at a time for about 14 minutes, or until the cheese straws are golden brown and crisp
Let cool slightly, then transfer to a rack to cool completely
The Cheddar Straws can be stored in an airtight container for up to 1 week.
Other recipes:
These blue cheese straws are a great opener for a dinner party. Using a dry crumbly blue will ensure the straws don't become too soft after baking.
Kaltbach Creamy is so soft and smooth that it practically melts in the mouth, making these biscuits light, savoury and impossible to stop eating.