Lincolnshire Poacher Cheddar Au Gratin Potatoes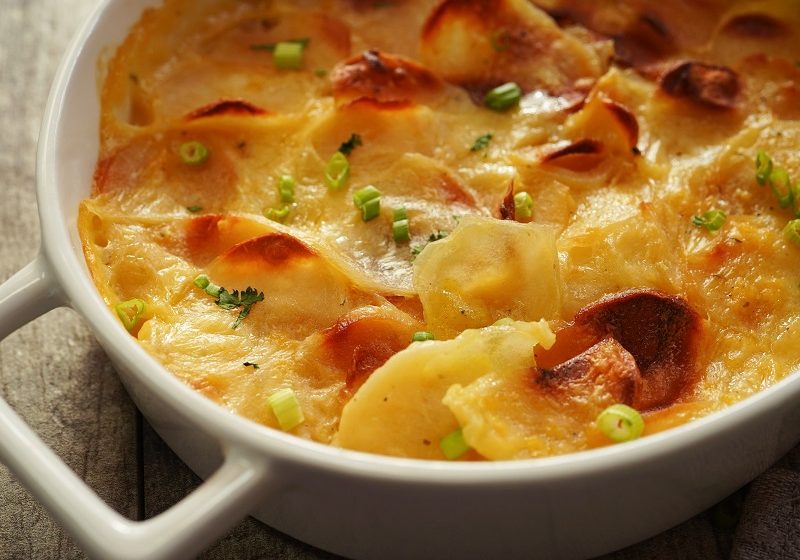 Ingredients
3 tbsp butter
2 tbsp plain flour
480ml semi skimmed milk
130g Lincolnshire Poacher
60g chopped onion
Around 6 medium potatoes (to measure how many, place in the casserole dish first until filled)
Salt and pepper
How to make it
Cheddar Au Gratin potatoes are surely everyone's favourite side dish. They perfectly complement many different meat dishes and when using Lincolnshire Poacher, you get an earthy, powerful kick of flavour.
Peel and slice the potatoes, around 1/2 cm thick
Dice the onions
Preheat the oven to 180°C Fan / 350°F / Gas Mark 5
In a large saucepan, melt the butter on a medium heat
Stir in the flour until smooth
Add the milk gradually, making a roux
Season and bring to the boil, allowing it to thicken a little
Remove from the heat and stir in the cheese
Add the potatoes and onions
Season to taste
Grease a deep oven proof dish. approx 26cm length
Pour the potato and cheese mixture into the dish, arranging a top layer of potatoes so that it looks tidy
Bake for 30-40 minutes until the Cheddar Au Gratin is tender and the cheese starts to brown
Works with pork, beef, steak, chicken, fish and even as a dish by itself with green vegetables or a crisp salad.
Try with these Bosworth Ash Stuffed Steaks or this Rôti de veau Orloff.
The recipe works with other cheddar's too, view our hard cheese range here.