Goats' Cheese Salad with Rich Redcurrant Jelly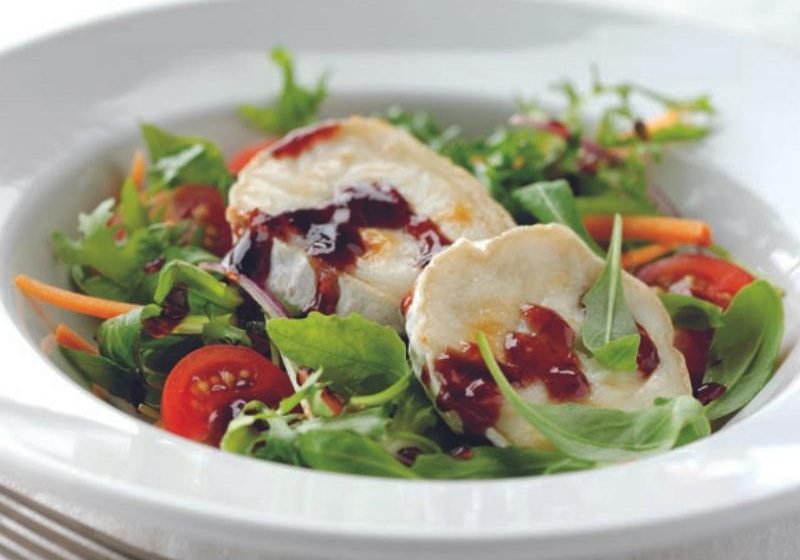 Ingredients
2 tbsp Tracklements Rich Redcurrant Jelly
1 tbsp Balsamic Vinegar
125g goats' cheese log, sliced into ½ inch rounds
Handful of rocket leaves
Handful of crisp lettuce
½ red onion, very finely sliced
1 small carrot, grated or julienned
8 cherry tomatoes, halved
Olive oil
How to make it
Terrifically tart redcurrants work extremely well in a goats' cheese salad, adding a sweet tanginess to fresh and delicate cheese. Packed full of flavour and textures.
Mix the Redcurrant Jelly and vinegar together in a small pan over a low heat, stirring until the jelly has dissolved.
Take off the heat and set aside.
Place the goats' cheese rounds onto a baking sheet and place under a moderate grill.
Grill for 2-3 mins or until the cheese has turned a golden brown.
Meanwhile, mix the rocket, lettuce, onion, carrot and tomatoes together and divide between the four plates.
Drizzle with olive oil.
To serve, gently place the goats' cheese on top of the salad and pour over the redcurrant, balsamic sauce.
Serve with crusty bread
Recipe courtesy of Tracklements.
Other Goat's Cheese recipes:
Best served warm, these Little Lepe Puff Pastry Parcels offer a bite of heaven with creamy smooth goat's cheese and a punch of sweet sticky fig relish. We've adapted the original recipe as four just didn't seem enough to us, but then 12 won't last long either!
Sweet and savoury goats' cheese mini muffins are the perfect treat for the whole family. This recipe makes 22 so you'll feed neighbours and friends too!
This goats' cheese tart is full of flavour, simple to make and will take your picnic fare from ordinary to extraordinary!