Goats' Cheese Mini Muffins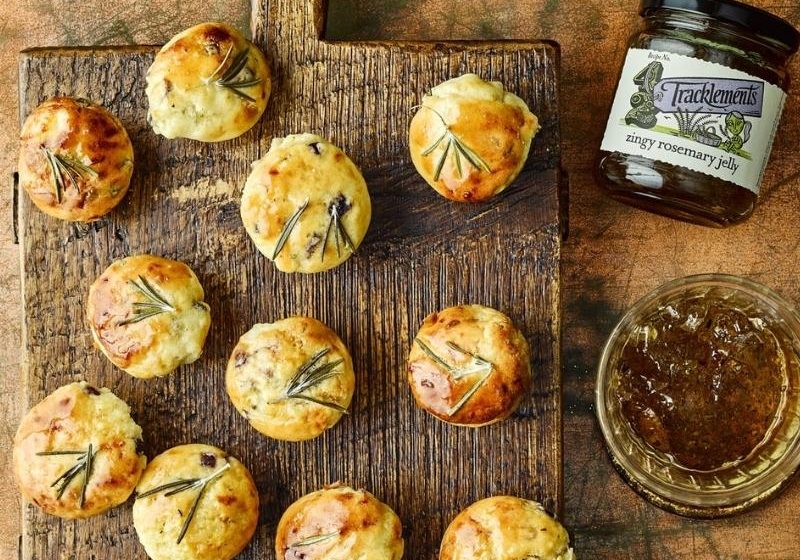 Ingredients
Makes: 22
knob butter
½  red onion, peeled and finely chopped
275g plain flour
1 tbsp baking powder
1 tsp sea salt
2 large eggs
225ml milk
50g goats' cheese, cut into 5 mm cubes
20g parmesan
5 tbsp Tracklements Zingy Rosemary Jelly
small bunch rosemary, broken into 22 small sprigs
a little butter for greasing
How to make it
Sweet and savoury goats' cheese mini muffins are the perfect treat for the whole family. This recipe makes 22 so you'll feed neighbours and friends too!
Pre-heat the oven to 200°C/400°F/gas mark 6.
Melt butter in a small pan, add the onions.
Once softened, set aside to cool.
Sift the flour, baking powder and salt into a large mixing bowl.
In a jug beat 3 tbsp of the Tracklements Zingy Rosemary Jelly until smooth, beat in the eggs before adding the milk.
Fold the milk/egg mixture into the dry mixture, stirring as little as possible.
Mix in the softened onions, goats' cheese and parmesan, folding in gently.
Grease a mini muffin tin with butter.
Spoon mixture into the mini muffin tin, you can pile the mixture quite high and top each muffin with a small sprig of rosemary.
Bake in the oven for around 20 mins or until risen and golden.
In a small saucepan, gently heat the remaining Tracklements Zingy Rosemary Jelly with 1 tbsp of hot water until smooth.
Remove from the heat and brush the tops of the muffins with the jelly.
Serve with extra  jelly on the side.
Recipe courtesy of Tracklements
Other Tracklements recipes
This goats' cheese tart with Sticky Fig Relish is full of flavour, simple to make and will take your picnic fare from ordinary to extraordinary!
This creamy vintage cheddar, ham and pea risotto enjoys flavours from three cheeses: tangy and sharp from the cheddar, nutty and salty from the parmesan and sweet, creamy flavours from the mascarpone. Ideal for a mid-week dinner with a rocket salad or some steamed greens.
Ploughman's is the quintessential British sandwich. It's just the ticket for an on-the-go lunch and is sure to keep you stuffed until dinner.