Cheese and Potato-Topped Lamb Hotpot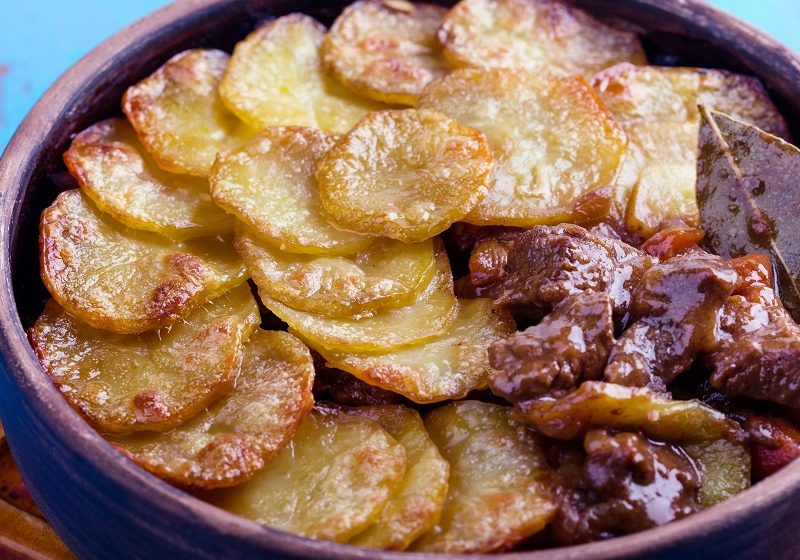 Ingredients
Serves 6
1 onion
2 garlic cloves
200g lamb mince
400g chopped tomatoes
200g Shorrock's Lancashire Bomb
600g potatoes
1tsp oregano
12oml chicken stock
100ml sour cream
1 large carrot
How to make it
Lamb Hotpot, or Lancashire Hotpot, is a delicious traditional stew made from lamb, cooked with onion and topped with potato. We've added a helping of Shorrock's Lancashire Bomb for added creaminess.
Filling
Preheat the oven to 220°C Fan / 420°F / Gas Mark 7
Bring a large saucepan of water to the boil, and add the potatoes. Cook until just soft, around 15 mins
Drain and leave to one side
Drizzle some oil in a frying pan
On a medium heat, add lamb mince
Add the onions and carrot and cook for about 5 mins, until everything looks softer
Add the garlic and dried oregano
Once everything looks suitably soft, add the chopped tomatoes
Add the chicken stock, tomatoe puree and water
Season with salt and pepper
Bring the mixture to a boil then simmer until the sauce becomes thick
In another bowl, crumble the cheddar and sour cream
Season
Assembly
Pour the lamb hotpot mix into an oven proof dish
Top with small dollops of the creamy cheese mixture
Arrange the potato slices on top
Finish with more dollops of the creamy cheese
Bake for 10-12 mins, until the potatoes are lovely and creamy
Bake & serve!
Lamb hotpot has all your veg and meat in one, so simply serve as it is!
Similar recipes
Cheddar Au Gratin potatoes are surely everyone's favourite dinner carb. They perfectly complement many different meat dishes and when using Lincolnshire Poacher, you get an earthy, powerful kick of flavour.
Cocotte Julienne is a traditional Russian dish which is very rich and creamy. Traditionally, this dish is served as an appetiser so you can make smaller portions in ramekins and serve it as a starter. If you love mushrooms and strong cheddar, this dish is perfect for you.