Macaroni, Sweetcorn and Montgomery Cheddar Balls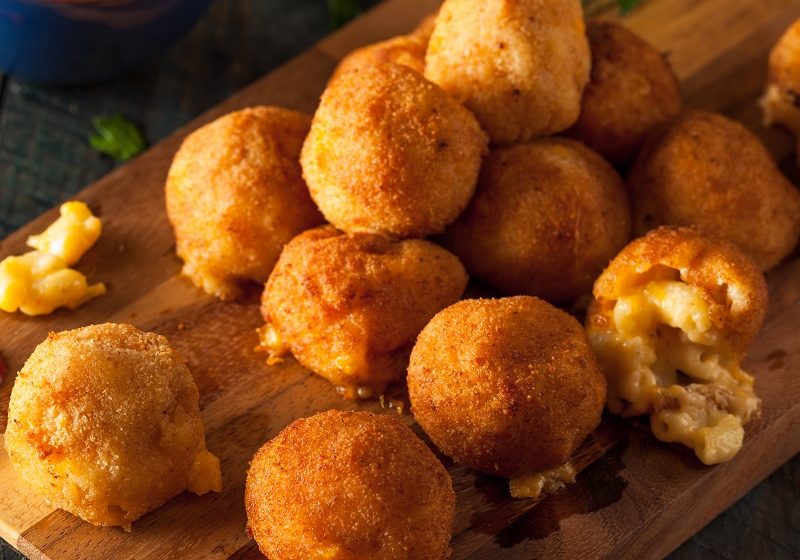 Ingredients
500g macaroni
2 tbsp butter
2 tsp flour
400ml semi-skimmed milk
350g Montgomery's Cheddar
165 tin of drained sweetcorn
2 eggs
breadcrumbs as needed
salt and pepper to taste
How to make it
Crispy on the outside, inside filled with rich, gooey cheese and sweet bites of sweetcorn. These Montgomery Cheddar Balls can be either fried or for a healthier twist, baked in the oven.
Boil some water and add macaroni. Cook until al dente
In a separate pan, make a roux:

melt the butter then mix in the flour
add the milk gradually
keep the heat on medium and stir to ensure there's no lumps

Add the Montgomery's Cheddar
Add the mustard
Season with salt and pepper
Add the cooked macaroni
Add a tin of drained sweetcorn
Cover and once cool, put in the fridge for 1 hour
Take the mixture out and roll into balls
Chill for another 2 hours
Preheat the oven to 200C/180C Fan/Gas 6
Roll the balls in egg wash, then breadcrumbs
Place on a lined baking tray and bake for 25-30 minutes, until golden
Alternatively you can fry in shallow oil. Fry a few at a time, flipping to ensure they're golden brown on both sides.
Serve these Macaroni, Sweetcorn and Montgomery Cheddar Balls with a side of Cartwright and Butler Tomato Chilli Chutney.
For other Montgomery Cheddar recipes:
Broccoli, and pumpkin Mac and Cheese with Montgomery's Cheddar