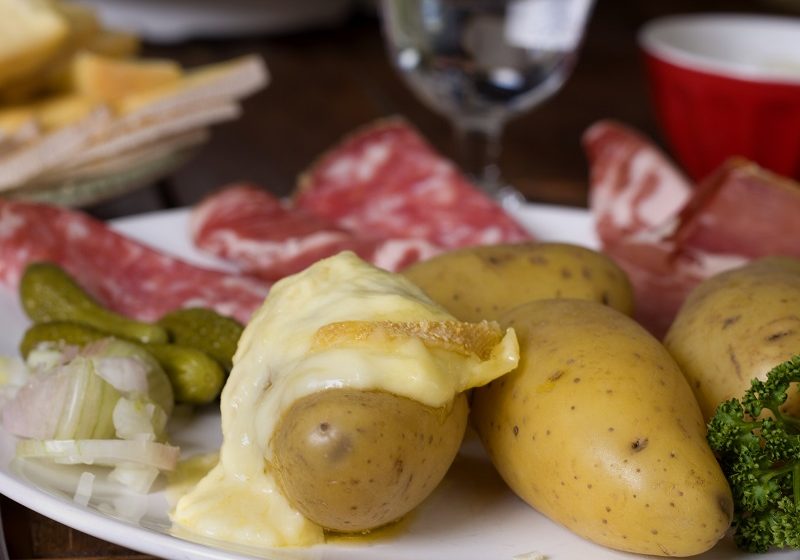 Ingredients
1kg raclette cheese will serve 4-5 people
New potatoes
Salad leaves
Cornichons
Picked onions
Cured meats
How to make it
You don't need a huge raclette machine to enjoy raclette cheese at home,  but if you have one it allows your melted cheese to sit in the middle of the party table. If you don't have one you can buy raclette slices and lay them over your dish then place under the grill.  The taste and dining experience will take you all the way to the Alps!
If you're using a raclette machine then light the three tea lights underneath (or turn it on if its electric!)
Lay the cheese slices in the tray – allow for approx 200g cheese per person
Warm until the cheese is bubbling and melted
The perfect Alpine-style accompaniments for raclettes are boiled new potatoes, cornichons/gerkins, pickled onions, cured meats and crisp salad leaves
Scrape the melted cheese over your potato and other accompaniments
If you're using the raclette slices you could place the raclette slices in a oven proof dish and grill for party guests to help themselves from, or you could place on top of your potato and meat selection and melt under a warm grill
The LIFe Partyclette® ToGo is made with European Oak and Beech with steel. It certainly looks the part and its dishwasher-safe too.
For an alternative Alpine recipe try Fondue, the ultimate party food.