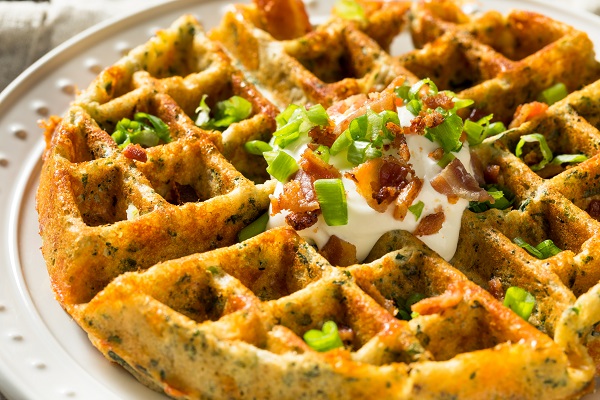 Ingredients
250g plain flour
1 tbsp baking powder
1 tsp garlic powder
1/2 tsp smoked paprika
1/2 tsp salt
3 large eggs
230ml buttermilk
85g butter
80g cheddar cheese – we recommend Wookey Hole Cave Aged Cheddar
How to make it
Savoury cheddar waffles are actually much more versatile than sweet versions as you can have them as any meal of the day.  Try them with southern fried chicken, with bacon and eggs or just a ranch dip.
You'll need a waffle iron for this. Turn it on and get it nice and hot, ready for the batter
To make the batter, start by whisking the eggs
Add in the buttermilk and continue to whisk
In another bowl combine the flour, baking powder, salt, garlic powder and smoked paprika
Combine the wet and dry ingredients to make a smooth batter
Melt the butter, and mix in with the batter
Add in the grated cheese
Continue mixing until the batter forms soft peaks
Add a portion of the batter to the waffle iron and cook for around 5 minutes – check to make sure it's not burning
Keep adding to waffle iron until mixture is all used up
Serve the warm cheddar waffles with southern fried chicken and salad. Also good with eggs and bacon for breakfast or just sprinkle with bacon bits and serve with a side of ranch sauce.
Other recipes
These brilliant biscuits from Milk Made can be cut into squares or circles. Make double the recipe, and you can keep a roll of the dough in the freezer to pull out and bake when friends drop by for unexpected drinks.
Cheese crepes are the world's answer to whether you should have cheese, or cake for dessert (the answer is, of course, BOTH)