Meet The Makers… Trethowan's Dairy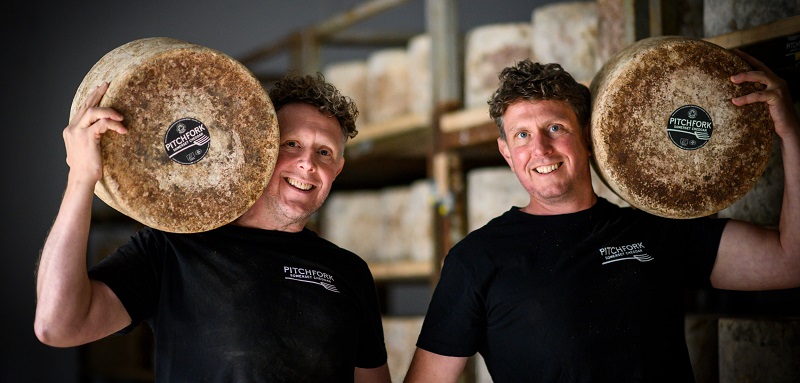 Nestling in the rolling hills of Somerset, a herd of 100 Holsteins and 20 Jersey cows are grazing sleepily on silty, organic peat soils. This feast of nutrients is where it all starts for the incredible cheese-making story of Trethowan's Dairy.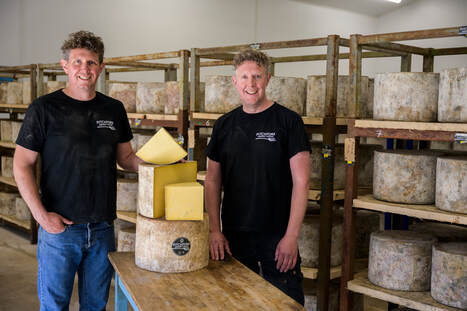 Brothers Todd and Maugan Trethowan are the master cheesemakers behind the award winning Gorwydd Caerphilly and Pitchfork cheddar. Their move to their current location came after a long search for a milk source of consistently high quality. The dairy they chose is owned by descendants of the Yeo Valley family who have been farming in this part of the UK since the 1400s. This heritage and knowledge, passed down through the generations, ensures that today's produce is of superior quality.
Focus
Only two cheeses are made at Trethowan's Dairy – Gorwydd Caerphilly and Pitchfork Cheddar. Instead of being herdsmen, marketers or business moguls, they are instead focusing on doing one thing well. And don't they do it well. Both cheeses have recently won a host of accolades and prizes, including the coveted world cheese awards. At these awards the cheeses are whittled down from almost 3000 to only 50 Super Golds. From these 16 are considered for 'Best Cheese in The World'. Trethowan's Dairy are the first cheesemakers ever to have two cheeses in this final round of the 'Super Gold' category. Gorwydd Caerphilly received '11th Best Cheese in The World' and Pitchfork Cheddar '4th Best Cheese in the World'. Pitchfork also won 'Best British Cheese'.
They are also proud to be part of the Slow Food Movement. This is an organisation that supports food producers who protect food biodiversity. They are considerate of animal welfare and highlight the need for good, clean choices in the food system. They are one of only three cheddar makers in the world who are part of the organisation.
With this in mind, we ask them what their secret is to making two incredibly special cheeses. They explain that it all starts from the milk which is gravity fed into their vats. Normally milk is pumped into a tank and this can change the fat consistency even at this early stage. Their gentle technique allows them the purest of starts.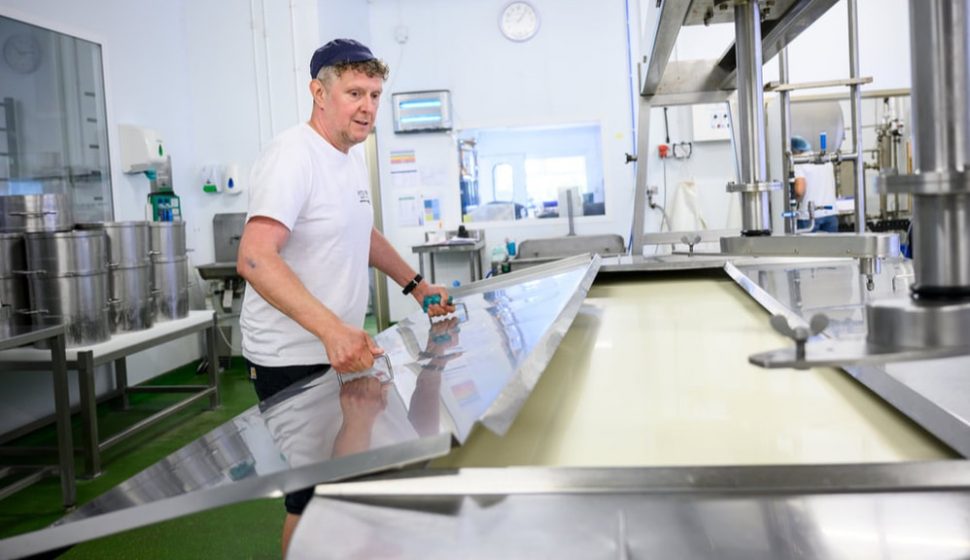 Cheesemaking
This organic, unpasteurised milk is a mix of morning milk with an evening milk for a creamier flavour. The creaminess also comes from the 20 Jersey cows in the herd. Every stage of the cheesemaking process is carried out by hand to a very precise methodology and recipe. It starts with a gentle heating of the milk and a well refined culture. The mixture is then cut by certain size blades (depending on whether it's Gorwydd or Pitchfork). Then the right amount of salt is added, and a laborious mixing method used that works to cut the curds from the whey.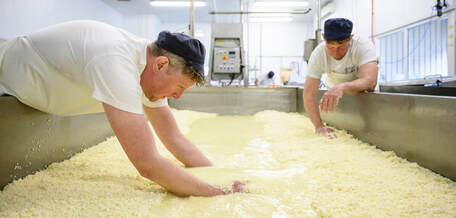 We follow the production of Gorwydd Caerphilly, and watch as the team work to create the perfect consistency of curds. They begin packing the cheese in cloth, using traditionally shaped moulds, piled high to allow for additional whey drainage. The cheese compresses in the mould surprisingly quickly, and the team move on to pressing where, incredibly, they use presses that are over a hundred years old.
Tradition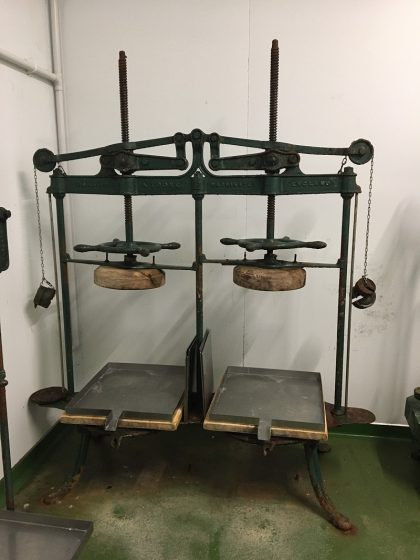 The Trethowan brothers explain that these traditional presses have been collected from all over the country and each have a story behind them. One was spotted in a museum, another one was found decorating a pub garden – the brothers bargained with the landlord to buy it. They recognise a value in these historical pieces that others see only as antiques. For the Trethowans, these presses are essential to producing a traditional finish for their Gorwydd Caerphilly.
The cheese is then transported to their final resting place, a sealed room kept at the ideal temperature and humidity. If you close your eyes you can easily imagine yourself in an cave deep underground.
Where the Gorywdd Caerphilly takes 6-8 weeks to ripen to perfection, Pitchfork cheddar takes at least a year, which means you really do have to enjoy it while it lasts. After the awards season the dairy had an incredible Christmas so they're currently working hard to fulfil demand. A huge part of that demand comes from across the pond in the USA. This is especially impressive given how stringent American rules are for importing unpasteurised cheeses, the quality must be exceptional and only a rare few cheeses pass the checks.
Development
Our tour continues with a look at the various stages of Gorwydd's development. From a clean clothed yellow purity, through different phases of mold growth, to the final stage where the bacteria dies off leaving an earthy, mushroomy rind.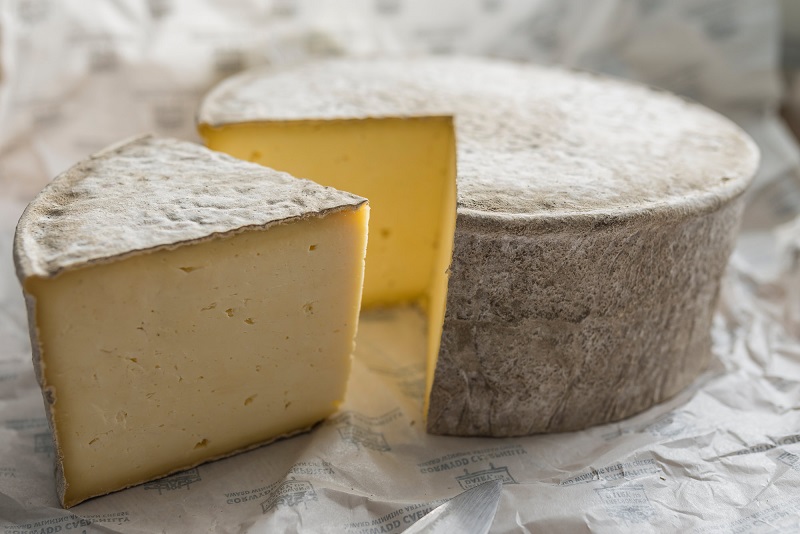 The Trethowan brothers strongly encourage that the cheese should be eaten with the rind. This mushroomy flavour is just as much part of the cheese as the soft and bouncy insides are. The earthy rind also covers a beautifully creamy, firmer layer that gives you the complex texture and flavour combination that really sets this cheese apart from other Caerphillys.
The Pitchfork cheddar is intensely creamy, slightly nutty with a rounded, savoury aftertaste and a long finish. The texture is not as dry as some cheddars, it has a soft, buttery consistency.
The Trethowan brothers send us off with plenty of samples, and direct us to some great recipes. One of which is this Cauliflower Cheese and Pork Belly, created by James Martin using Pitchfork Cheddar. We also have a cracking recipe of Glamorgan Sausages where we use Gorwydd Caerphilly.
The Trethowan dairy is an example of artisan cheesemaking at its finest – two master cheesemakers using traditional methods, perfected recipes and processes and a pinch of love, to create something truly spectacular. It reflects everything we celebrate at Pong Cheese.
Pong Cheese currently sell Gorwydd Caerphilly in 250g wedges and are looking into trialling Pitchfork Cheddar soon.