How to Pair Cheese and Coffee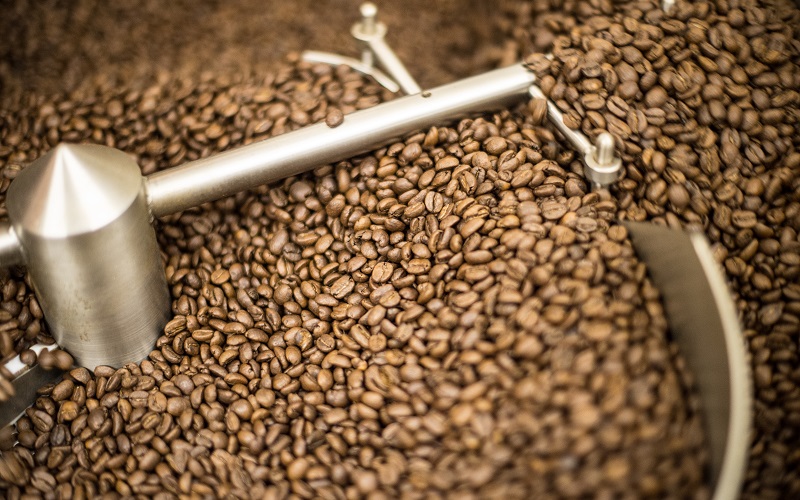 Alongside our cheeseboard, many of us enjoy coffee after a meal. But should our two favourite after-dinner treats really be enjoyed together?  Believe it or not, coffee and cheese are a heaven-made match. So pop the kettle on, place any scepticism on the shelf and come with us on a new kind of flavour adventure. It's going to be good…
Why do cheese and coffee work together?
We caught up with speciality coffee roastery Two Chimps to get the low-down on this new flavour fusion. Two Chimps source high-grade speciality coffees from small farms and roast by hand in their little Rutland roastery. Theirs is the bee's knees of coffee world, so we're in safe hands.
Just why do cheese and coffee work well together? Think about the words you use to describe your favourite cheese. It might be sweet, bright and lemony or toasty, rich and deliciously nutty. All of these adjectives could justifiably be transferred onto a coffee.  Just like cheese, coffee can be tart and vibrant or smoky and sweet with flavours of caramelised nut.
Saltiness is where cheese takes a different route. Few people would describe their joe as salty. But this is where it gets interesting. By contrasting with its salty flavour, a cup of well-made coffee cuts through the tang of the cheese to help you taste it in a new light.
Cheese and coffee around the world
Coffee and cheese isn't a new union – our friends in Scandinavia are already smashing the trend. Take the Cheese Danish (Topfengolatsche), a cream cheese-filled pastry typically served with coffee in the morning and afternoon. A little more out-there is kaffeost. This cheesy treat involves adding chunks of sturdy curd cheese (called leipäjuusto) to a cup and pouring it over hot coffee. The cheese soaks up some of the coffee's unique flavour as it half-melts into rich blobs you eat with a spoon. Don't knock it 'till you try it…
How to pair cheese and coffee
Similarity is the way forward when partnering coffee with food. Take coffee and chocolate, for instance: 70% dark chocolates are best with punchy espressos, while white chocolates tend to suit fruity light roasts. The result? A happy harmony where one never overwhelms the other. It's just the same with coffee and cheese. Aged cheeses with strong, assertive flavours are great with darker roast coffees, while light roasts pair well with mild, creamy cheeses. Want to give it a whirl? Here are some flavour pairings you'll love…
Hard Cheese
Rich dark roast coffee goes down a treat with strong cheese. Dark roasts spend longer in the roaster, which gives the natural sugars more time to caramelise and creates lush, toffee-sweet flavours. Now imagine your favourite aged Gouda. It sports similar flavours; strong, sweet and almost like butterscotch. Hence, it's a great match for caramelly dark roasts.
Mature cheddar brings bite and body to any cheeseboard. Its nutty undertones go down a treat with full-bodied medium or dark roast coffees – particularly ones with low acidity and hints of nut. Two Chimps recommends looking out for beans from Honduras or Mexico. They recommend the creamy Mail Order Me A Waterfall coffee from Two Chimps with our Alex James Co Cheddar.
Soft Cheese
Relish your favourite soft cheese with a mug of vivid, fruity coffee. Look out for light roasts, with their bright acidity and lively fruit flavours, or ones from African countries. Espresso can, interestingly, be the best way to brew here, as they really let those fruity flavours sing.
Pillow-soft Chaource AOC tastes heavenly with berry-ish coffees,  particularly with Kenyan beans. You can drizzle Chaource with honey or spread it on toast with raspberry jam, and berry-bright coffee is just another way to keep the sweetness coming.
French Brie is known for its silky texture and mildly tangy taste. This makes medium-acidity, fruity coffees a top option. Try our Brie de Meaux with this zingy light roast coffee from Two Chimps. Anyone would say they, well, brie-long together!
Blue Cheese
Sweet on Stilton? Can't get enough Gorgonzola? Maybe keep them away from your morning cup. Blue cheese tends to be too pungent for coffee – it's strong, funky flavours will always take centre stage. That's not to say it's off-limits – try it and let us know!
Don't leave coffee 'till last during your dinner party. Serve it with your cheeseboard for next-level flavour adventure!