Robert Burns – the part-time cheesemaker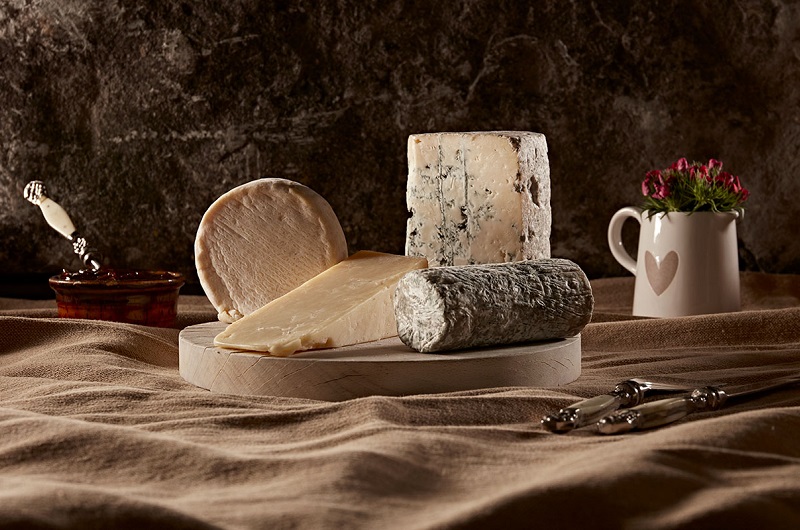 Robert Burns, of Burns' night and 'Auld Lang Syne' fame was an excise officer by day and poet by night, but in fact also dabbled in cheesemaking on his dad's farm in Ellisland near Dumfries.
The story goes that in 1788 a friend of Burns, Mrs Dunlop of Dunlop Cheese, loved his poetry so much she gifted him Ayrshire cow. He was familiar with the breed as his mother Agnes Broun made cheese from the milk of Ayrshire cows whilst they lived in Alloway, where Burns was born. So it's likely that his mother was one of the many in the early 1700s making Dunlop cheese.
The single cow gave him a seed of an idea, and he bought more dairy cattle from Ayrshire, and tasked his wife with looking after the cows, milking them, churning butter and making cheese.
The cheese in those days was a 'sweet milk' cheese with a high fat content made from the whole milk, and was eaten quite young and soft.
The cheese is still made today by Barwheys, who say "We use traditional animal rennet, cut the curd by hand, stack it into blocks, bandage it in old fashioned cheesecloth, and leave it to mature. Our Dunlop cheese is a bit firmer but the flavours are the same as they would have been 200 years ago."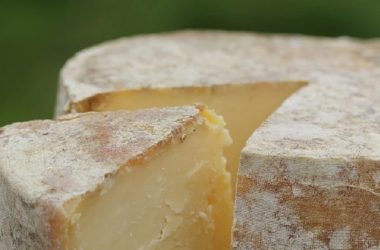 Dunlop Cheese – from Dunlop Dairy
It certainly paints a picture of a creative man, who whilst dining on his own sweet, rich cheese was inspired to write equally rich and wonderful poems and texts, such as "To a Mouse" written on the observation of a plough turning up a mouse's nest. Even in old Scots-language, the poems conjure vivid images and depict what life would be like for this Scottish cheese-lover in the late 1700s.
Nowadays there are many wonderful variations of Scottish cheese, many reflecting their origins of stunning landscape, unforgiving weather conditions, and the wild lands that the cattle graze and feed on.
You can try some of our favourites from the country in The Scottish Selection Box.
We'll leave you with our favourite Poem by Robert Burns,
"To a Louse, On Seeing one on a Lady's Bonnet at Church"
Ha! whare ye gaun, ye crowlan ferlie!
Your impudence protects you sairly:
I canna say but ye strunt rarely,
Owre gawze and lace;
Tho' faith, I fear ye dine but sparely,
On sic a place.
Ye ugly, creepan, blastet wonner,
Detested, shunn'd, by saunt an' sinner,
How daur ye set your fit upon her,
Sae fine a Lady!
Gae somewhere else and seek your dinner,
On some poor body.
Swith, in some beggar's haffet squattle;
There ye may creep, and sprawl, and sprattle,
Wi' ither kindred, jumping cattle,
In shoals and nations;
Whare horn nor bane ne'er daur unsettle,
Your thick plantations.
Now haud you there, ye're out o' sight,
Below the fatt'rels, snug and tight,
Na faith ye yet! ye'll no be right,
Till ye've got on it,
The vera topmost, towrin height
O' Miss's bonnet.
My sooth! right bauld ye set your nose out,
As plump an' gray as onie grozet:
O for some rank, mercurial rozet,
Or fell, red smeddum,
I'd gie you sic a hearty dose o't,
Wad dress your droddum!
I wad na been surpriz'd to spy
You on an auld wife's flainen toy;
Or aiblins some bit duddie boy,
On 's wylecoat;
But Miss's fine Lunardi, fye!
How daur ye do 't?
O Jenny dinna toss your head,
An' set your beauties a' abread!
Ye little ken what cursed speed
The blastie's makin!
Thae winks and finger-ends, I dread,
Are notice takin!
O wad some Pow'r the giftie gie us
To see oursels as others see us!
It wad frae monie a blunder free us
An' foolish notion:
What airs in dress an' gait wad lea'e us,
And ev'n Devotion!
Sources:
https://www.vice.com/en/article/qkxjm7/robert-burns-was-a-secret-cheesemaker
https://en.wikipedia.org/wiki/Robert_Burns
https://interestingliterature.com/2015/12/10-robert-burns-poems-everyone-should-read/