The Great British Cheddar Challenge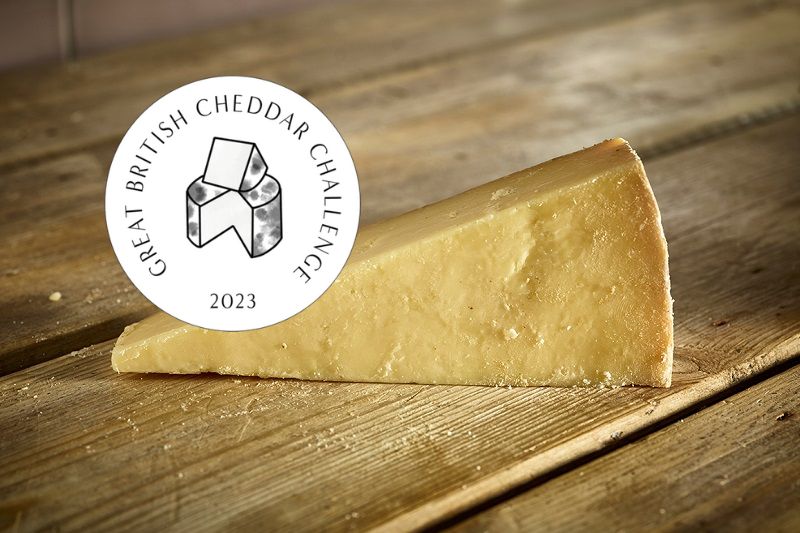 If you love nothing more than the taste of artisan cheese, then you may wish to take part in The Great British Cheddar Challenge 2023.
The event, held on September 16th is an online blind tasting of six carefully chosen cheddars, where you are asked to vote for our favourite cheese. The winning artisan cheddar will be selected from "the People's Choice" – the most favoured cheese from the six tasted.
The six cheeses that will be in the box are:
Pitchfork  – Made by Trethowen Brothers near Weston Super Mare, Somerset. This cheese is first class picked by our Head of Cheese, James (World Cheese Judge) at the World Cheese Awards in Bergamo. It went on to become England's best cheese 2019. Seen as the new boys on the block in Somerset, moving from Wales, creating this wonderful organic Holstein & Jersey cow's milk masterpiece. It's flavour has savoury tones, is well balanced by bright acidity and oxo richness. It has a long-lasting tangy finish. This works well with an old school British cider.
Hafod  – Made by the Holden Family in Bwlchwernen Fawr, Lampeter, Wales. Made with raw milk from the farm's 75 Ayrshire cows. Ayrshire milk is rich in butterfat and protein and is widely regarded as being ideally suited to cheesemaking. Although the recipe for the cheese is very similar to that of a Cheddar, Hafod has distinctive rich, buttery, nutty flavours – indicative of the Swiss origins of the original recipe. The cheese is made in 10kg rounds, and matured to 12 months, during which time it develops a traditional mould rind.
Montgomery – Made by Jamie Montgomery in North Cadbury, Somerset. Montgomery cheese has been made within the Montgomery family for over 70 years and great pains are made to ensure that the recipe and quality of the cheese remain the same. So committed to the original production methods, Montgomery Cheddar still uses the traditional source of enzymes used to start the curd, calf rennet – which is one of the reasons why the Montgomery Cheddar Cheese has such character. Crowned Supreme Champion and Best of British Cheese at the Virtual Cheese Awards 2023. You can buy Montgomery Cheddar here.
Quicke's – Made by legend Mary Quicke in Newton St Cyres, Devon. Milk from their own pasture grazed Quicke's cows, a mixture of Kiwi Friesian, Swedish Red and Montebeliarde. It is handmade using traditional methods before being bound in cloth and matured for 12-15 months. A rich and buttery cheddar that offers outstanding depth of flavour, which develops as it reaches the back of the palate. Brothy to grassy to caramel notes with a wonderful horseradish spice closer to the rind. Treat yourself to a Quicke's Mature Cheddar Truckle here.
Isle of Mull– Made by Brendan Reade in Near Tobermory, Isle of Mull, Scotland. The herd feeds on grass in summer and hay in winter but enjoys a supplement of fermented grain throughout the year, a unique addition which only adds to the cheese's deeply flavoursome complexity. Once set and moulded, the cheeses are kept in an underground cellar to mature for up to 18 months. As a result, this expresses a fantastic, rugged cheddar with an almost boozy hint from the fermented grains. Buy your Isle of Mull Cheddar here.
Mount Leinster – Made by Tom Burgess, who has been producing top quality milk from his pasture fed cows in West Wicklow, Ireland for twenty years. Tom wanted to develop a product which reflected this quality and decided it would be Mature Raw Milk Cheddar.. "Pasture to Cheddar the same day". During this time the unique combination of enzymes & proteins interact to create a gourmet experience of aroma, texture & full flavour which develops slowly from sweet fruit to a full nutty note.
If you would like to get involved in The Great British Cheddar Challenge 2023, we recommend you buy your box from our friends at No.2 PoundStreet.
The event will be hosted online from 19:00(GMT) on the 16th of September.
If you would prefer to simply enjoy and celebrate artisan cheddars, we have a full range of hard cheeses and cheddars for you to choose from, here.