Bacon and Bocconcino di Langa Goat's cheese Wrapped Dates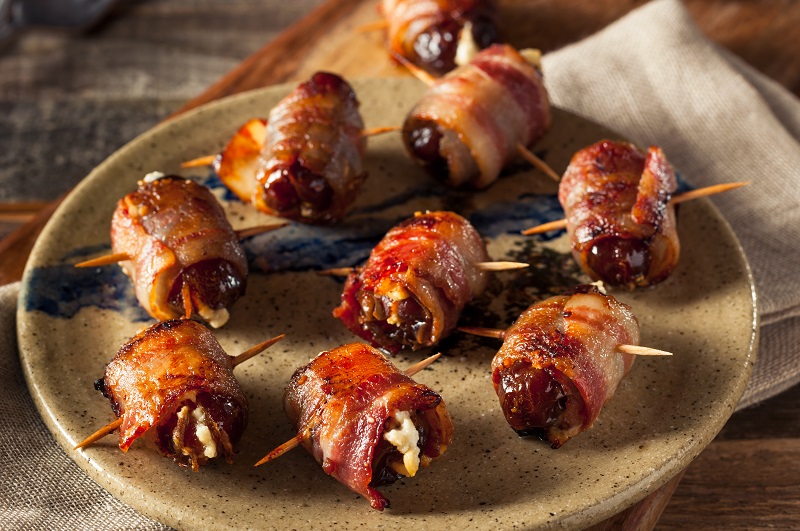 Ingredients
Makes 8
8 rashers of bacon
8 dates – pitted or not pitted
How to make it
The combination of salty bacon, sweet date and savoury Bocconcino di Langa make these cheese wrapped dates totally scrumptious. Bocconcino means "little mouthful" so it seems the perfect cheese to use.
Preheat oven to 220°C/200°C fan/Gas 7
Lay out the bacon rashers
Cut the goat's cheese into 8 pieces
Using a small knife cut through each date and remove the pit if needed, and open up each date
Place the date at the top or bottom of the bacon
Place the goats cheese inside the opened up date
Roll up the bacon, securing it all with a toothpick
Place all on a baking tray with baking parchment
Bake for approx 15 minutes, turning half way through to ensure they're even
Serve the cheese wrapped dates at room temperature
Other recipes:
There ain't no party bread like a Pong Party Bread! The perfect centre piece to a feast, where all your friends can dig in and pull a piece off. This is our Pong version as it uses the pungent and spicy Epoisses de Bourgogne AOC.
Bresaola is a cured beef that comes from the Valtellina area of northern Italy. Normally served as an antipasti, this recipe uses it to create little goat's cheese parcels that work as a party canapé or just a tasty snack.