Black Treacle Cured Ham Mac and Cheese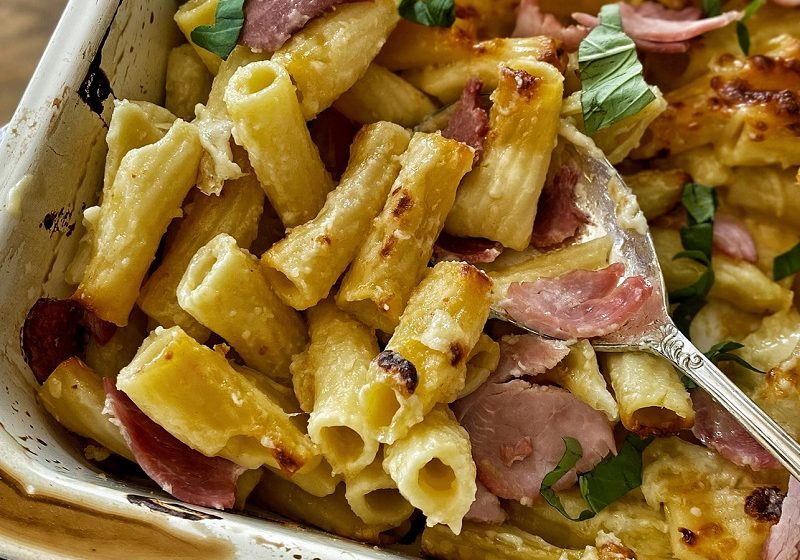 How to make it
Bittersweet black treacle cured ham paired with creamy and crumbly Somerset Organic Cheddar makes this Mac 'n' Cheese recipe a cut above the rest. Smooth Dijon Mustard adds tangy and spicy flavour to every bite.
Begin by boiling your pasta according to pack instructions until it is al dente
Grate the Somerset Organic Cheddar into a bowl
Add the butter into a saucepan on medium heat
Add the flour and stir with a whisk or fork until it forms a paste
Reduce the heat to low and stir in your milk, a small amount at a time
Add the grated cheese in and continue to stir until all the cheese is in. The sauce will soon thicken into a proper sauce
Once it's thickened, add Tracklements Smooth Dijon Mustard
Drain your pasta then spread it across an oven-proof tray. Pour the cheesy sauce on top of your pasta, making sure it's all equally covered
Cook in the oven for about 20 mins on 200°C fan/ 220°C oven. Remove from the oven, tear up the black treacle cured ham into thick pieces and sprinkle on top of the mac and cheese. Return to the oven for a further 5 minutes
Remove from the oven once the cheese and ham has begun to crisp and wait 10 minutes before serving
Recipe courtesy of Tracklements and The Jolly Hog
Other Tracklements Recipes
This goats' cheese tart with Sticky Fig Relish is full of flavour, simple to make and will take your picnic fare from ordinary to extraordinary!
This creamy vintage cheddar, ham and pea risotto enjoys flavours from three cheeses: tangy and sharp from the cheddar, nutty and salty from the parmesan and sweet, creamy flavours from the mascarpone. Ideal for a mid-week dinner with a rocket salad or some steamed greens.
Ploughman's is the quintessential British sandwich. It's just the ticket for an on-the-go lunch and is sure to keep you stuffed until dinner.