Broccoli and Gorwydd Caerphilly Casserole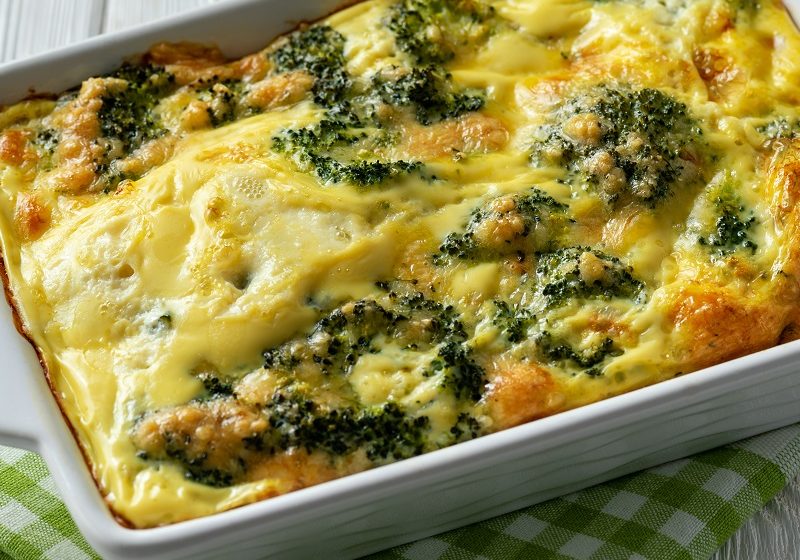 Ingredients
Serves 6-8
500g vegetable broth
250g quinoa, well rinsed
500g broccoli florets
2 tbsp olive oil
1 tsp salt
black pepper to taste
250g Gorwydd Caerphilly
1 cup skimmed milk
1/2 tbsp butter
1 clove garlic, minced
2 slices wholemeal bread
75g cheddar
How to make it
This Caerphilly casserole is actually quite healthy, easy to make and tastes amazing! It serves 6-8 so you can serve it for dinner then have the rest for lunch the next day.
Preheat the oven to 200°C Fan / 400°F / Gas Mark 7
Add the vegetable stock and quinoa to a saucepan and boil for around 20 minutes, or until all the liquid is absorbed. Season with salt and pepper then cover and leave to one side.
Cut broccoli florets into bite-sized pieces. Toss with olive oil until lightly coats then place on a lined baking sheet and bake for around 15 mins, until the broccoli is tender
Tear your bread into small pieces – leave like this for a more rustic look or blend them in a food processor until they are small crumbs for a more even texture
In a frying pan, melt some butter and add the garlic (leave to slightly brown), then add the bread crumbs until they're slightly browned and crisp. Set aside to cool.
Reduce the oven to 180°C Fan / 350°F / Gas Mark 6
Pour the milk into the Quinoa saucepan and then add 2/3rds of the Gorwydd Caerphilly and mix.
Pour the quinoa and cheese mixture into a baking dish, then top with the broccoli. Sprinkle with the remaining 1/3rd of the Gorwydd Caerphilly, then sprinkle the breadcrumbs on top.
Finish with a sprinkle of cheddar
Bake the Caerphilly Casserole for around 25 minutes, until top is golden brown.
Serve with seasonal vegetables.