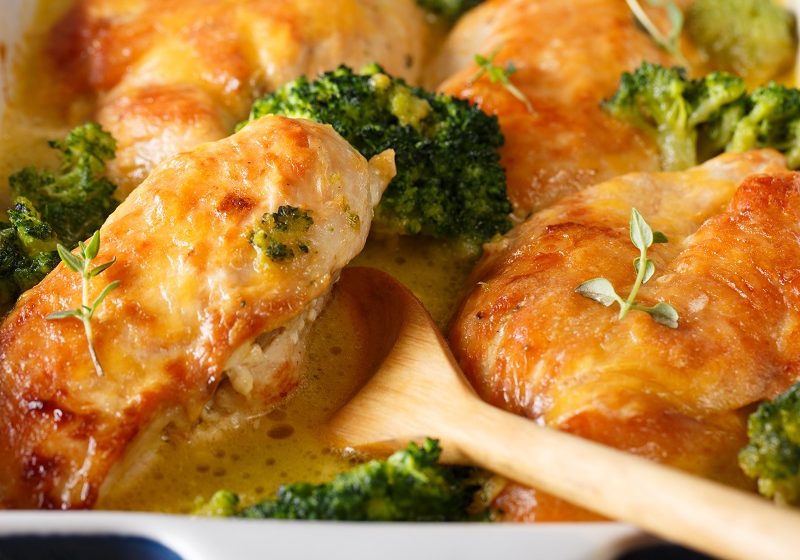 Ingredients
Serves 4
4 large chicken breasts (boneless + skinless)
2 tsp olive oil
1 tsp salt
½ tsp pepper
1 onion finely diced
3 garlic cloves minced
1 tsp dried oregano
1 tsp dried thyme
125ml chicken stock
125ml cup heavy / whipping cream
2 tsp lemon juice (or to taste)
Florets of 1 broccoli
150g grated Godminster Organic Cheddar
salt and pepper to taste
How to make it
This broccoli cheddar chicken recipe is an easy and delicious dinner idea. Seared chicken breasts cooked in creamy cheddar sauce is perfect served over rice.
To ensure quick-cooking, thin out the chicken breasts just slightly.
Place the chicken on a cutting board, cover with a sheet of parchment paper and flatten with a meat mallet or rolling pin.
Drizzle with olive oil and season with salt and pepper.
Brown the chicken in a hot skillet or deep pan until golden brown on both sides and cooked through.
Remove and set aside while you make the sauce.
In the same pan, fry finely diced onion and garlic until fragrant.
Add oregano, thyme or sage.
Add chicken stock, cream, lemon juice and season to taste.
Bring to a simmer then add the broccoli. Cover the pan and allow the broccoli to cook for 3-5 minutes.
Reduce the heat and add the grated Godminster Organic Cheddar.
Allow the cheese to melt, stirring to make sure the cheese melts into the sauce evenly.
Add the chicken back into the pan, spoon over the sauce and serve.
For the original broccoli cheddar chicken recipe, click here.
Godminster Organic Cheddar is also available in a smoked version, available here.