Butternut Squash and Sage Mac 'n' Cheese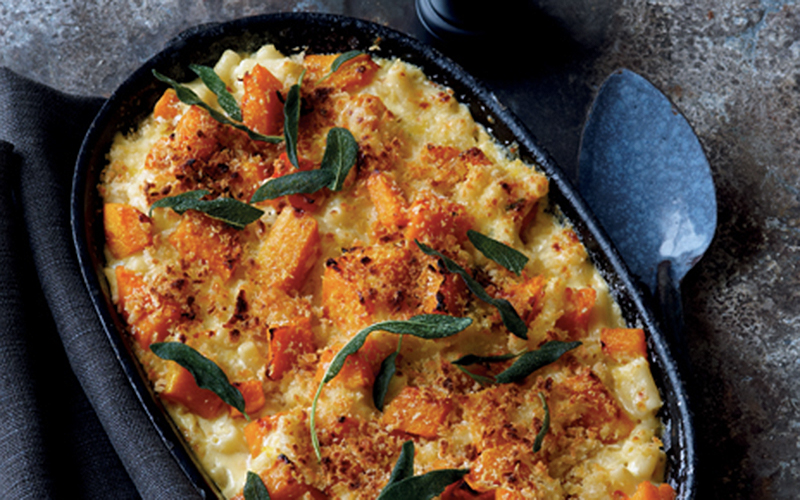 Ingredients
Serves 6-8
A handful of coarse sea salt
500g macaroni
1 large butternut squash (1 kg), skinned, deseeded and cubed
3 tablespoons vegetable oil
30g butter
2 shallots, finely chopped
650 ml double cream
Leaves from a few sprigs of fresh sage,
Finely chopped
100g grated Padano or Parmesan
100g grated Cheddar cheese such as Wookey Hole Cave Aged Cheddar cheese
50g fresh breadcrumbs
Fine sea salt and freshly ground black pepper
How to make it
Earthy sage and sweet butternut squash are a match made in heaven — even better topped with lashings of cream and melted cheese. This comforting Mac 'n' Cheese dish is perfect as a main meal or as an accompaniment to roasted meats.
Bring a large saucepan of water to the boil.

Add the coarse sea salt, then let the water return to a rolling boil.

Add the macaroni, stir well and cook according to the package instructions until very tender.

Stir periodically to prevent the macaroni from sticking together.

When cooked, drain, rinse well under running water and let drip dry in a colander.
Layering
Preheat the oven to 200˚C (400˚F) Gas 6.
Arrange the squash in a single layer on a baking sheet.
Sprinkle over 2 tablespoons of the oil and toss to coat lightly.
Roast in the oven for 20–25 minutes until just charred.
Remove the squash from the oven and put it in a very large bowl.
Season lightly with salt and set aside.
Heat the butter and the remaining oil in a large saucepan.
Add the shallots and cook over high heat for 2–3 minutes, or until golden, stirring occasionally.
Then add the cream, sage and a good pinch of salt and bring to the boil, then reduce the heat.
Add the cheeses and stir well to melt.
Grilling
Preheat the grill to medium–hot.
Put the cooked macaroni in the bowl with the squash.
Pour over the hot cream sauce and mix well. Taste and adjust the seasoning.
Transfer the macaroni mixture to a baking dish and spread evenly.
Top with a good grinding of black pepper and sprinkle the breadcrumbs evenly over the top.
Grill for 5–10 minutes until the top is crunchy and golden brown. Serve immediately.
Recipe courtesy of:
Mac 'n' cheese by Laura Washburn
Photography by Steve Painter
Published by Ryland Peters & Small