Cheddar Quesadillas with Sweet Pepper Relish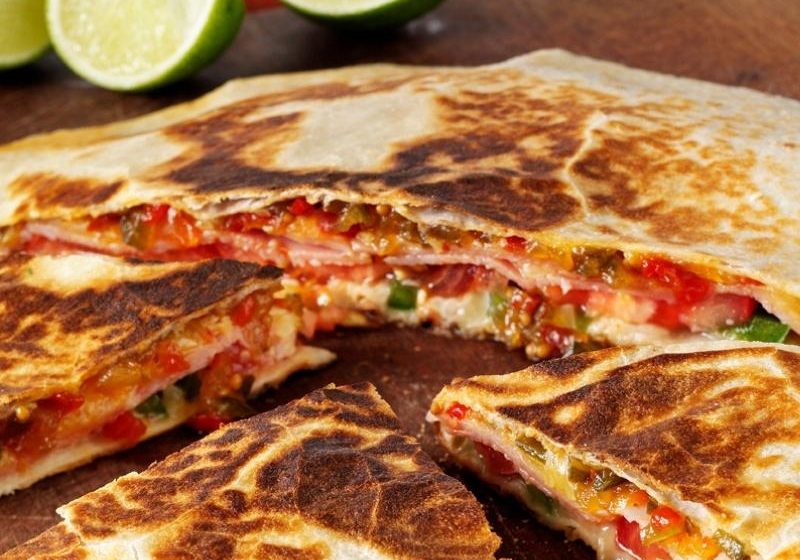 How to make it
Cheddar Quesadillas are a dinnertime staple. If you want to make them extra delicious use a crunchy, mature cheddar such as Pong's Extraordinary… Cheddar. It'll add depth as well as bit of crunch.
Put one tortilla on a plate and spread with the Sweet Pepper Relish.
Sprinkle with the grated cheese then arrange the ham, pepper and tomato on top.
Add the other flour tortilla and press down well.
Heat the oil in a large frying pan. When hot, slide the quesadilla into the pan.
Cook for about 1 minute until browned.
Place the plate on top of the pan then invert the pan so that the tortilla falls out onto the plate.
Slide the quesadilla back into the pan to cook the other side.
Cut into wedges and serve hot.
Recipe courtesy of Tracklements
Similar recipes
This Quesadillas with chicken, peppers and Manchego comes from Mexico so it's only right to use a Spanish cheese and Manchego hits the spot with its nutty and caramel flavours.
Enchiladas make an excellent mid-week dinner that the whole family can enjoy. This version uses turkey making it a little healthier, and the nutty, buttery and mature Manchego adds wonderful depth of flavour.
The secret to a good burger is using beef mince with over 15% fat content. The secret to a GREAT burger is spicy, strong and complex Picos de Europa blue cheese.