Cheese and Garlic Stuffed Chicken by Mary Berry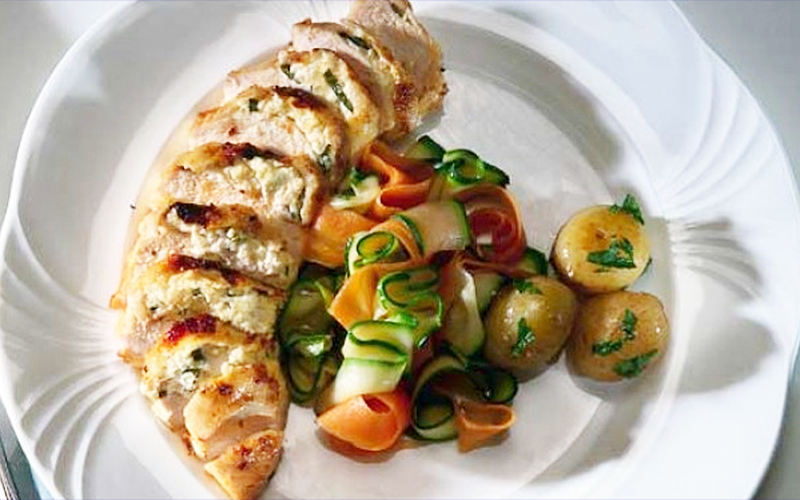 Ingredients
(Serves 6)
For the stuffed chicken:
6 boneless chicken breasts, with the skin on
Butter, melted for brushing
For the stuffing:
30g (1oz) butter
1 onion, finely chopped
2 large garlic cloves, crushed
250g (8 oz) full fat soft cheese Buy Soft Cheese
1 tbsp chopped fresh tarragon
1 egg yolk
a pinch of grated nutmeg
salt and black pepper
How to make it
This Garlic Stuffed Chicken is a wonderful simple recipe by Mary Berry combining the classic mix of cheese, chicken and garlic!
1. Make the stuffing: melt the butter in a small saucepan. Add the onion and garlic and cook gently, stirring occasionally, for a few minutes until soft but not coloured. Turn the onion mixture into a bowl, and leave to cool slightly.
2. Add the soft cheese to the onion mixture with the tarragon, egg yolk, and nutmeg. Season with salt and pepper and mix well.
3. Stuff the chicken breasts: lift up the skin along one side of each breast, spread the cheese mixture over the chicken and then gently press the skin back on top. Put the chicken breast into an ovenproof dish and brush with the melted butter.
4. Roast the chicken in a preheated oven at 190C (375F, Gas 5) for 25-30 minutes until the chicken is cooked through. Cut each breast into diagonal slices, and serve hot with buttered carrot and courgette slices, cut with a potato peeler, and new potatoes.
Garlic Stuffed Chicken recipe courtesy of 'Supper for Friends' by Mary Berry published by Dorling Kindersley. Visit the DK site to buy the book