Cheese and Spring Onion Biscuits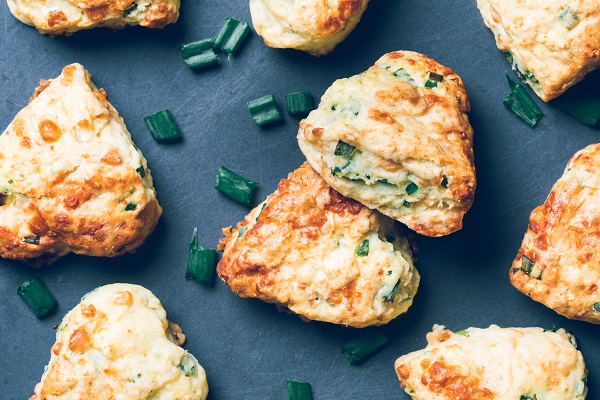 Ingredients
Makes 8
400g plain flour
2 tsp baking powder
3/4 tsp baking soda
3/4 tsp black pepper
1/2 tsp salt
100g unsalted butter, cubed
100g thinly sliced spring onions
120g of Westcombe cheddar cheese, grated
240ml buttermilk
1 tbsp unsalted butter, melted
How to make it
These Cheese and Spring Onion Biscuits are American style 'biscuits', a bit more like a scone. Ideal if you're making a thanksgiving dinner!
Preheat oven to 220°C (200°C fan)
Line a baking sheet with parchment paper
Combine the dry ingredients: flour, baking powder, baking soda, black pepper, and salt
Using your fingers, work cold butter into flour mixture until butter is in small, flattened pieces and mixture is crumbly
Stir in the chopped spring onions
Add half of the cheese
Add 3/4s of the buttermilk, and stir just until dough comes together
Adding the rest of the buttermilk, 1 tablespoon at a time, if necessary
You're looking for a dough that is neither sticky nor crumbly
Transfer dough to a lightly floured surface, and knead a few times to bring dough together
Grease a 9 inch cake tin
Sprinkle some of the remaining cheddar into the tin
Place the dough into the tin, pushing up to the sides
Pre-cut the dough into 8 triangles
Brush tops with melted butter
Sprinkle the remaining cheese over the top
Bake these Cheese and Spring Onion biscuits until golden brown, approx. 15 minutes.
Original Recipe from Food & Wine
Other recipes
This Garlic and Blue Cheese Beer Bread is one of our most popular recipes. It uses Cropwell Bishop Stilton which you'll find in The Best Dad in the World Box. Serve this cheesy, garlicky bread warm with a knob of butter.