Chicken Stuffed with Goat's Cheese and Tarragon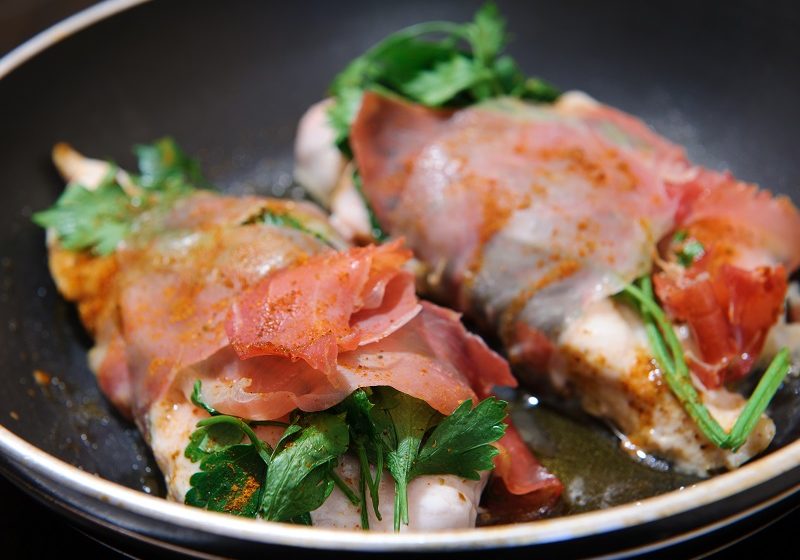 Ingredients
Serves 4
140g soft goat's cheese
zest ½ lemon
½ long red chilli, finely chopped
1 tbsp finely chopped tarragon
4 skinless chicken breasts
8 slices prosciutto
How to make it
Doesn't chicken stuffed with goat's cheese sound an absolute delight? This recipe also uses tarragon and chilli and the chicken is wrapped in crispy prosciutto. Delicious!
Heat oven to 190C/170C fan/gas 5.
Beat together the goat's cheese, lemon zest, chilli, tarragon and some seasoning.
Cut a slit in the side of each chicken breast, ensuring that you don't pierce through the other side.
Using your fingers, make a pocket and stuff the cheese mix inside.
Season the chicken breasts, then wrap 2 slices of prosciutto around each, covering the pocket tightly.
Put on a baking tray, drizzle with olive oil and cook for 18-20 mins until cooked through but still moist, and the juices run clear.
Serve the chicken stuffed with goat's cheese with a side of asparagus, tenderstem broccoli, and mashed potatoes.
Other Goat's Cheese recipes:
Delicate and creamy goat's cheese, paired with sweet caramelised red onion, is a simply wonderful flavour combination and perfect on toast for a snack or light supper.
The combination of salty bacon, sweet date and savoury Bocconcino di Langa make these cheese wrapped dates totally scrumptious.
If there's a better combination than Goat's cheese, beetroot and walnut we're yet to find it. Try it in this salad.