Chorizo and Sheep's Cheese Lasagne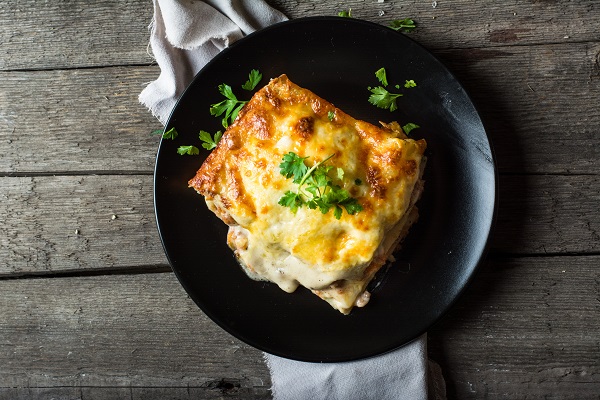 Ingredients
225g chorizo, chopped
1 jar marinara sauce
Sea salt
Freshly ground pepper
360g ricotta cheese
1 large egg
8 lasagne sheets
100g Alex James' sheep's cheese, crumbled
How to make it
Loaded with flavour, this Chorizo and Sheep's Cheese lasagne is a great alternative to traditional lasagne, and because it's made from ewe's milk it's got less lactose than cow's milk.
Preheat the oven to 220°C (200°C Fan)
In a large frying pan, cook the chorizo over medium high heat for 3 minutes, until it starts to brown
Add the marinara sauce and season with sea salt and freshly ground pepper
In another saucepan melt the butter. Add the flour to make a roux
In a medium bowl, whisk together the lactose-free ricotta, egg, sea salt, freshly ground pepper and 80ml water
In an 8-inch-square baking dish, spread 1/3  of marinara sauce and top with 4 lasagne sheets, breaking them as necessary so that they fit
Pour half of the marinara sauce over the top, then spread with half of the ricotta
Add another layer of lasagne sheets
Cover with the remaining marinara sauce and ricotta, and top with the sheep's cheese
Cover the baking dish with aluminium foil and bake in the preheated oven for 35 minutes
Remove the foil, turn on the broiler and broil for 5 minutes, until the sheets are soft and the cheese is browned and bubbling
Let the Sheep's Cheese lasagne rest for 10 minutes before serving
Original recipe from Food & Wine.
Other lasagne recipes
This Goats' Cheese Lasagne is an interesting vegetarian twist on the traditional lasagne using sweet, caramelised onion marmalade for full-bodied flavour.
Traditional cheese lasagne is a classic mid-week dinner that can be frozen and reheated for easy access when you're busy. A tasty cheddar such as Wookey Hole Cave Aged Cheddar. will add depth of flavour.
The sweet and salty tones of blue cheese make this lasagne really special. Serve with a green salad and you'll have your family singing all week!