Hot Cropwell Bishop Stilton and Spinach Puffs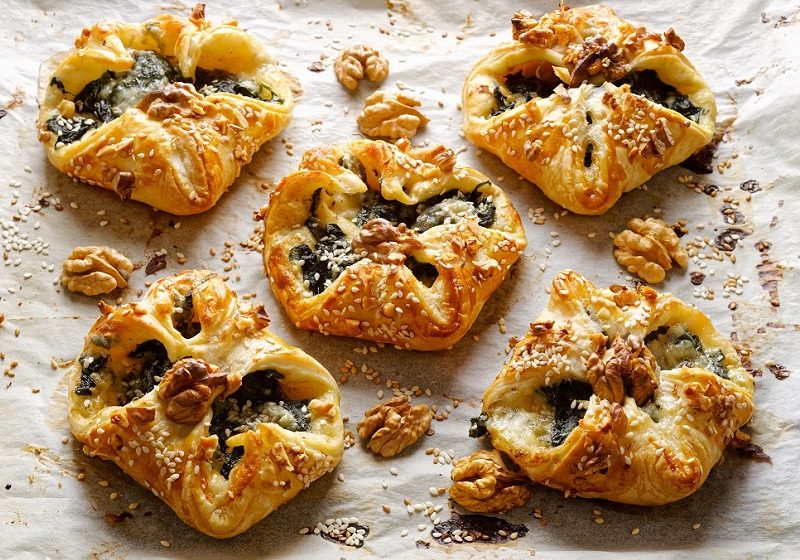 Ingredients
250g of ready-rolled puff pastry
flour to dust
150g Cropwell Bishop Stilton cheese, crumbled
400g fresh spinach
1 egg
50g sesame seeds
Approx 100g walnuts
How to make it
These little Stilton and Spinach Puffs are bound to be popular at parties, they look wonderful and taste divine! They're really simple to make, too.
Preheat the oven to 220°C (200°C fan oven), gas mark 7.
Place in the oven a baking sheet to heat up.
Steam the spinach until it's wilted.
Roll out the puff pastry sheet on a lightly floured surface to a thickness of about 1cm.
Cut the puff pastry into 5cm squares.
Drain the spinach thoroughly, and squeeze out all the excess water using a tea towel.
Mix the spinach with the Stilton then place a spoonful in the middle of each square.
Fold each corner of each the pastry into the centre. Fix with a walnut.
Gently brush over with egg wash, and then sprinkle with sesame seeds.
Transfer the Stilton and Spinach Puffs to the warm baking sheet and bake for 10 minutes until golden.
If you love Stilton, you may also enjoy this Spinach, pasta and Stilton bake, this Stilton stuffed chicken under a brick or this Leek, Broccoli and Stilton Soup. Stilton by Cropwell Bishop is available to buy individually as 150g or 454g. It's also available as part of the The Best Dad In The World Box and The Best of British Tasting Box.