Mushroom and Stilton Cannelloni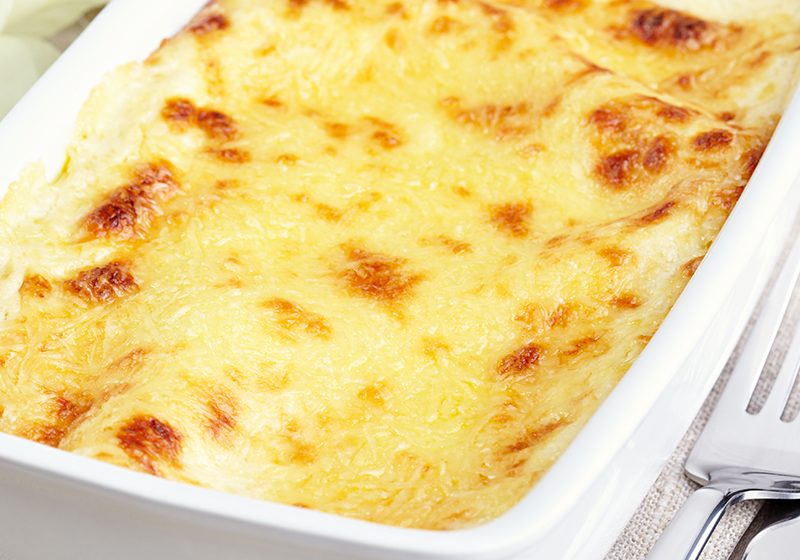 Ingredients
(Serves 4)
550g brown mushrooms, cut into 1 cm chunks
200g half fat creme fraiche
500g carton plain passatta
80g approx finely crumbled Stilton
15 cannelloni shells
1 onion, finely chopped
2 tbsp olive oil
1 weeny bit of butter
3 cloves garlic, finely chopped
2 sprigs fresh thyme, leaves removed
3 tbsp freshly grated Parmesan
Salt and Pepper
How to make it
This fantastic Stilton cannelloni recipe is courtesy of one of our favourite food blogs: Anne's Kitchen. You will need a hand blender or similar for this!
Method
Heat the oil in a large sauté/ lidded frying pan. Gently fry the onion for 10 mins, without browning.
Add the garlic and cook for another 5 minutes until all softened and translucent. Tip into a bowl.
Place the pan back on the heat, add the mushrooms and butter. Cook for 15-20 minutes or until the mushrooms are softened.
Add the thyme leaves – do not brown the mushrooms too much.
Strain off and reserve the juices, stir the onion mixture back in and 2/3 of the Stilton.
Allow to cool down. Once cooled, gently blitz with a hand blender but not to a puree.
Stir in 2 heaped tbsp of the crème fraiche.
In a jug mix together the passata and all ingredients, except 2 tbsp of the remaining crème fraiche. Season with salt and pepper.
Now mix the remaining crème fraiche with 2 tsp of the reserved mushroom juices.
Include the remaining Stilton and 1 tbsp of the tomato and crème fraiche mixture.
Assembly
Pre-heat oven to 170 fan/ 190 degrees.
To assemble, pour the passata and crème fraiche mixture into a dish that fits the shells in one layer.
Fill the shells with the mushroom mixture. Roll over in the sauce to coat, repeat until all filled and lined up in the dish.
Spoon over the Stilton mixture and sprinkle the Parmesan, bake for 30 minutes.
If the shells during cooking are looking dry or are not fully immersed, gently press down with a fork or spoon to allow the mixture to re-cover.
Serve and enjoy! Try fried cabbage and hot bread rolls as an accompaniment.
Read this Stilton cannelloni recipe and more at Anne's Kitchen here.