Provencal tomatoes and goats cheese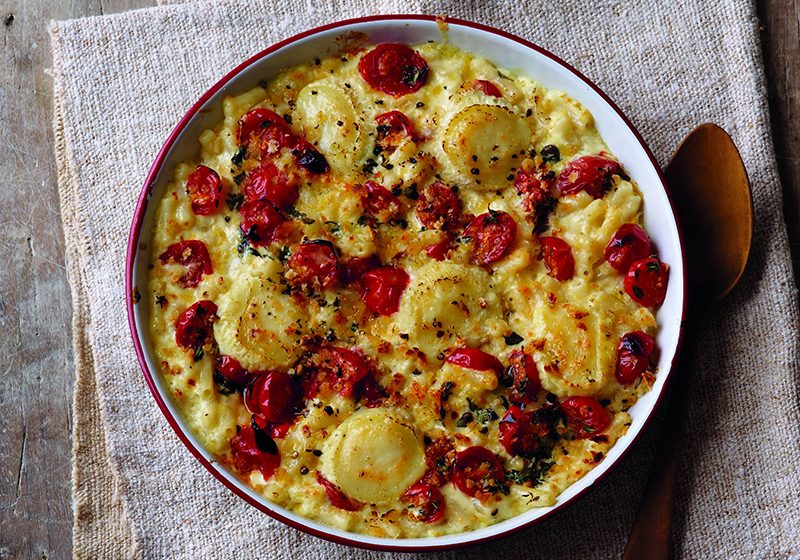 Ingredients
Serves 6-8
A handful of coarse sea salt
500g/1lb. macaroni
500g/1lb. cherry tomatoes, halved
A small head of garlic, cloves separated bit skins left on
A few sprigs of fresh thyme, chopped
2-3 tablespoons extra virgin olive oil
600ml double/heavy cream
Leaves from a small bunch of fresh basil, thinly sliced
100g grated hard cheese
1 x Kidderton Ash, ends trimmed and sliced
50g fresh breadcrumbs
Fine sea salt and freshly ground black pepper
How to make it
This tomatoes and goats cheese recipe brings two classic ingredients together, allowing you to simply enjoy the delicate flavours.
Bring a large saucepan of water to the boil. Add the coarse sea salt, then let the water return to a rolling boil. Add the macaroni, stir well and cook until very tender. Stir periodically to prevent the macaroni from sticking together. When cooked, drain, rinse well under running water and let drip dry in a colander.
Preheat the oven to 190 C (375 F) Gas 5.
Arrange the halved tomatoes and garlic in a single layer on a baking sheet; some skin side up and some not. Sprinkle over the thyme and oil and toss to coat lightly. Roast in the over for 15-20 minutes until just charred. Remove the tomatoes and garlic from the oven. Slip the garlic cloves out of their skins and chop finely. Set aside. Transfer the tomatoes to a very large bowl and season lightly with salt. Set aside.
Preheat the grill/broiler to medium-hot.
Put the cream in a large saucepan and bring just to the boil, stirring occasionally. Add the basil, chopped garlic and a good pinch of salt, then reduce the heat. Add the grated goat cheese and stir well to melt.
Put the cooked macaroni in the bowl with the tomatoes. Pour over the hot cream sauce and mix well. Taste and adjust the seasoning. Transfer the macaroni mixture to a baking dish and spread evenly. Top with a good grinding of black pepper and arrange the Kidderton Ash slices on top of the macaroni. Sprinkle with the breadcrumbs and grill/broil for 5-10 minutes until the top is crunchy and golden brown. Serve immediately.
Recipe courtesy of:
Mac 'n' cheese by Laura Washburn
Photography by Steve Painter
Published by Ryland Peters & Small