A Perfect Pairing: Beer and Cheese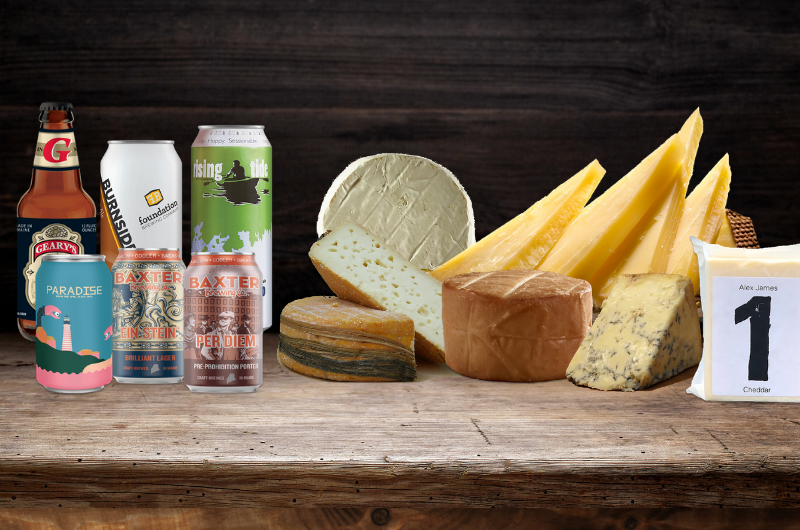 We are all familiar with the idea of wine and cheese pairing, but with a whole world of new and exciting beers in the world, why limit ourselves to just pairing cheese with one type of alcoholic beverage?
Craft beers are created all the time and Beer52 dedicate themselves to finding these exquisitely produced drinks, a sentiment we also adhere to at Pong Cheese, seeking the very best in artisan cheeses across the UK and Europe. Here, we look at eight beers that you can purchase online at Beer52 and paired each with cheese that we think perfectly complements the flavour, offering you a taste sensation.
Alex James' Cheddar No. 1 with Free Assembly's DDH Session IPA
Free Assembly is as refreshing as a brisk Maine day, with a classic combination of Citra and Mosaic. It has notes of citrus, pine and tropical fruits so we felt compelled to try it with the creamy and rich Cheddar No. 1 from Alex James. The fruitiness of the IPA lingers on the tongue which is then hit with a tarte punch from the cheddar, a perfect combination of sweet and savoury.
Perl Wen with Rising Tide's Maine Island Trail Ale IPA
Maine Island Trail Ale is a light IPA with a bright malt body and bold notes of citrus and pine. It conjures images of the great outdoors which is why it deserves a Welsh cheese, and Perl Wen is the ideal choice. The organic lovechild of a Caerphilly and a Brie, Perl Wen has a soft lemony centre which complements the cirtrusy ale, both are light and delicate enough to balance each other out.
Livarot AOC with Baxter Brewing Co.'s Per Diem Prohibition Porter
Per Diem is dry-but-balanced, rich-but-not-heavy, light-bodied and smooth. With a 5.5% ABV it awakens your senses so we paired it with a pungent soft cheese, Livarot AOC. Livarot is similar to Pont L'Eveque but has more aroma and flavour, and with its glossy reddy-brown rustic looking washed rind it looks perfect next to Per Diem too.
Stinking Bishop with Geary's Pale Ale
Geary's flagship pale ale has been rated as one of the most important American craft beers and is a classic British pale ale with a nod to the legendary beers of Burton-on-Trent. An important ale such as this needs an equally famous cheese and we have just the ticket. Stinking Bishop is suitably famous and world-renowned for its flavour. It has a soft texture with a strong and meaty taste, and Geary's is dry, clean and crisp. Both have a lingering flavour, with lots of late hops on the tongue from Geary's and a spiciness from Stinking Bishop.
Kaltbach Creamy with Baxter Brewing Co.'s Ein Stein Brilliant Lager
Ein Stein's Brilliant Lager transports you to the beer halls of Munich, and with the old-world charm of Bavarian malts there is only one type of cheese that will do – the hard, Swiss and slightly nutty, Kaltbach Creamy. Kaltbach is so irresistibly smooth it practically melts in your mouth which perfectly matches with this smooth, crisp lager.
Bosworth Ash Log with Paradise's DDH NE IPA
Paradise's DDE is a juicy NE IPA which is inspired by the New England coastline; rugged, earthy and crisp. We paired this with the creamy Bosworth Ash Log goat's cheese which has a smooth, clean flavour and a freshness that works well with citrus flavours.
Cropwell Bishop's Stilton with Sebago Brewing Co.'s Runabout Red Ale
Runabout Red Ale is a classic, so it needed a classic cheese for its partner, which comes in the form of Cropwell Bishop's Stilton. The ale has is brewed with three malt varieties which create a sweet malty backbone, perfect for a hit of salty, nutty, crumbly Stilton. The richness of this blue cheese works well with the bready malt character that glides on your palate with every sip.
Smoked Godminster Cheddar with Foundation Brewing Company's Burnside Brown
Burnside has layers of flavour with its roasted notes of coffee, burnt sugar, and chocolate, so add another layer by introducing Smoked Godminster Cheddar to the palette. This unusually creamy cheddar is well-finished and balances well with the touch of malty sweetness from Burnside Brown.