Why and How Should I Make The Perfect cheeseboard?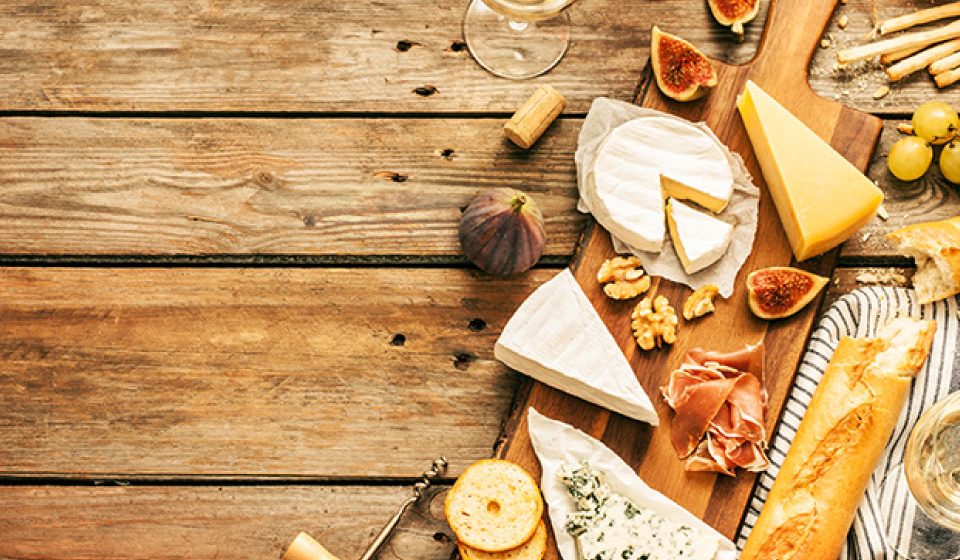 Why should you make the perfect cheeseboard? Well in a recent British Cheese Board survey, 65% of adult respondents said that cheese is one of their favourite foods. So if you're entertaining friends, family, work associates or even a romantic prospect, it's quite clear that serving cheese is going to make your guests very happy indeed.
Whatever anyone tells you about the timing or the manner in which cheese 'should' be served, ignore them: do it the way you want. If you want to serve Vacherin as a starter or a small taster of Stinking Bishop between courses go for it! If you want it before dessert or one hour after the meal is over, beside the fire with a bottle of brandy then do it. The Americans serve cheese as a starter, the French before dessert and the English as a grand finale so who's to decide when's best?
What is certain is that cheese is an extraordinary product that deserves to be served in a way that does it justice.
Here are some simple tips on how to create the perfect symphony of tastes and textures and how to make your dinner guests swoon with excitement:
1. Be daring – try different cheeses you're not familiar with.
2. Make your cheese course sensational. Bring back the wow factor! It should not be treated like an easy option. Apply creative thought to your cheese as you do elsewhere in your meal.
3. Serve from three to five cheeses and aim for variety. You want to dazzle your diners' taste buds with different styles, tastes, colours and textures. Again, there are no hard and fast rules but generally a well-balanced board would include any from the following types: a 'hard' such as a Cheddar or Yarg, a 'soft' such as a Camembert or Waterloo, a 'blue' like Oxford Blue or Blacksticks Blue, a washed or flavoured cheese: an Epoisses or maybe a Smoked Celtic Promise and finally a 'goat's' such as Golden Cross or Ragstone.
4. Theme the cheese selection: you might have a cheese from each milk type: a cow, a sheep and a goat. Or cheeses from within one area; for example our Bath Soft Cheese Selection is made up of cheeses all made within a 10 mile radius and are all made using the same organic milk from the same cows.
You could use colour as the theme to make a board that makes your guests faces light up: Epoisses (soft/ washed) beside an Oxford Blue beside a Berkswell (hard/ sheep's) looks quite incredible and tastes even better.
5. Find out the stories behind each cheese and each producer: the more you know about them the more you can educate and interest your guests. Few other foods are created by a single person: it is quite possible to say this cheese was created by Caroline and Leonie in their converted shed above the village of Curthwaite and to trace the milk right back to an exact herd or flock. Cheese has been shaped by religions, armies, and of course necessity. Indeed, we can trace certain types of cheese we eat today to ancient generations of people. For example sweet, hard, sheeps' milk cheese to the Phoenician traders, stinking wash-rinded cheeses to the Cistercians and our ashed goats' to the Moors.
6. Bring cheeses to room temperature, starting two hours before serving.
7. Remove all packaging and serve whole cheeses as they are and leave on their rinds.
8. Serve each cheese with its own knife to avoid mixing flavours.
9. As a guide, allow for between 80g and 120g per person depending on the size of your guests 🙂 (or for us here at Pong that might be more in the region of 200g!)
10. Choose a tray or platter large enough to keep cheeses of different shapes and sizes from touching. Wood, marble, straw, ceramic or granite all make good presentation boards. Slate is a great option because you can write in chalk the name of each cheese beside it.
11. When arranging your selections, be sure to display them in a manner that makes them most accessible to guests. Put smaller cheeses in the middle, with soft cheeses around them. It's best to put hard cheeses around the outside to make them easier to cut.
Accompaniments
Choose clear flavours and textures. For example, a mixed vegetable chutney should be avoided but its components could be served separately for more clarity and interest.
Try anything from seeds, nuts, wafers, biscuits, jellies, honey, fresh and crisped vegetables to fresh, preserved and caramelised fruits such as medjool dates or fresh figs. Breads should be crusty and sweet or spiced. Avoid dry, salty biscuits as they over-salt the combination.
Of course, cheese is the focus, but it is just as important to carefully pick the textures and tastes which demonstrate that this living product is composed of a wealth of flavours. Each accompaniment should play off a different and distinct aspect of the cheese's character be it strength, sweetness, saltiness, crumbliness or stringency. So as an example, an acidic young goats' cheese such as a Kidderton Ash, would work with sweet grilled peppers or Kentish cherries, a guava jelly, a red onion compote or even strawberries – a lot more interesting than serving it with salty biscuits and a lump of chutney!