Butternut Squash with Blue Cheese and Apple and Cider Brandy Chutney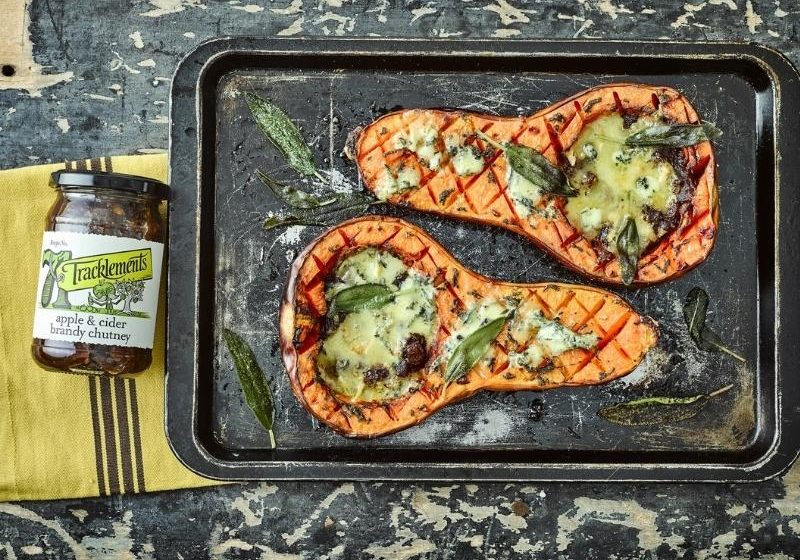 How to make it
Butternut squash with blue cheese offers amazing flavour, texture and colour combinations. Sweet and salty, smooth and crumbly, orange and blue, it's got it all!
Pre-heat oven to 190°C/375°F/gas mark 5
Halve the butternut squash, scoop out the seeds. Score the flesh right through to the skin (but not through the skin)
Finely chop the sage and mix with the olive oil
Drizzle the sage mixture over the butternut squash and roast in the oven for around 40 mins until nearly cooked
Spoon the Apple & Cider Brandy Chutney into the bowl of the squash and scatter blue cheese over the top
Finish off in the oven until the cheese has melted and the squash is cooked through
Either serve your Butternut Squash with Blue Cheese with a big salad, alongside grilled chicken, or with a side of your favourite grains
Recipe courtesy of Tracklements
Other blue cheese recipes
These blue cheese sliders are a little different to your average burger as they're topped with a slice of sweet potato. Mushroom, salad, roasted red pepper and onion marmalade elevates this to the next level.
This garlic and blue cheese bread is one of our most popular recipes. It uses Cropwell Bishop Stilton which you'll find in The Best Dad in the World Box. Serve this cheesy, garlicky bread warm with a knob of butter.