Camembert Parcels with Hazelnuts and Christmas Spice Chutney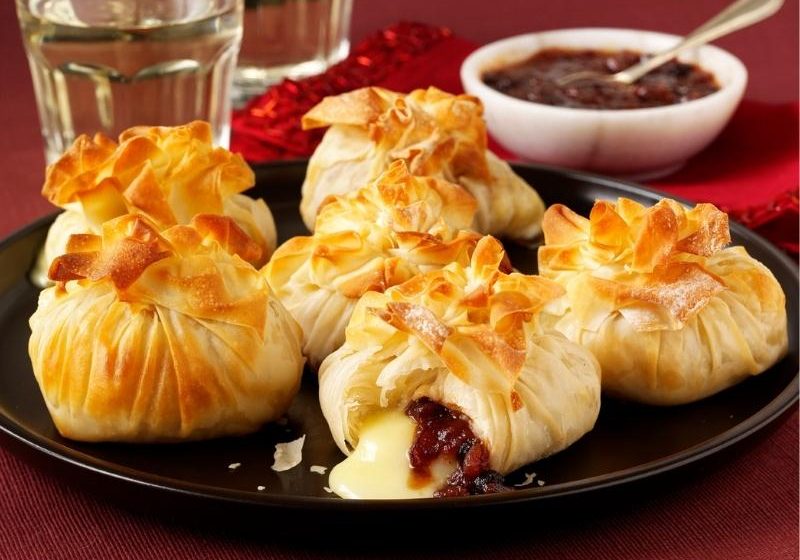 How to make it
Camembert Parcels are just the kind of parcels we're hoping for this Christmas. Cheese, hazelnut and spiced chutney wrapped in filo pastry, you'll no doubt have to make more than 6 at a time…
Preheat the oven to 200ºC/400ºF/gas mark 6
Cut the camembert into 6 segments and press the cut sides in the hazelnuts
Heat the butter and oil together until melted
Unroll the filo pastry and cut the sheets in half
Brush 1 sheet of pastry with a little oil and butter
Place a wedge of camembert in the centre and top with 1 heaped tsp of Christmas Spice Chutney
Fold the pastry over to tightly enclose the cheese
Do this twice (it helps prevent the cheese leaking when cooked)
Gather the next (buttered) sheet of pastry up over the camembert, pinching and pleating it to create "frills" on top
Repeat so that you have used 4 sheets of pastry in total for each parcel
Place the Camembert Parcels on a baking sheet
Do the same with the other 5 pieces of cheese
Bake in a hot oven for 6-8 mins until golden brown
Serve as a canape or as a starter with rocket leaf salad
Recipe courtesy of Tracklements.
Other Christmas recipes:
The classic post-Christmas turkey sandwich, with an upgrade! The warm toast, Brie de Meaux AOC and cranberry sauce will make you crave turkey all over again.
For an indulgent Christmas treat that are perfect for parties, or little bites for unexpected guests during the holidays, try these Sparkenhoe Red Leicester dumplings with Panko breadcrumbs. Serve with a side dip of Tomato Chilli Chutney.
Kaltbach Creamy is so soft and smooth that it practically melts in the mouth, making these biscuits light, savoury and impossible to stop eating.