Sparkenhoe Panko Dumplings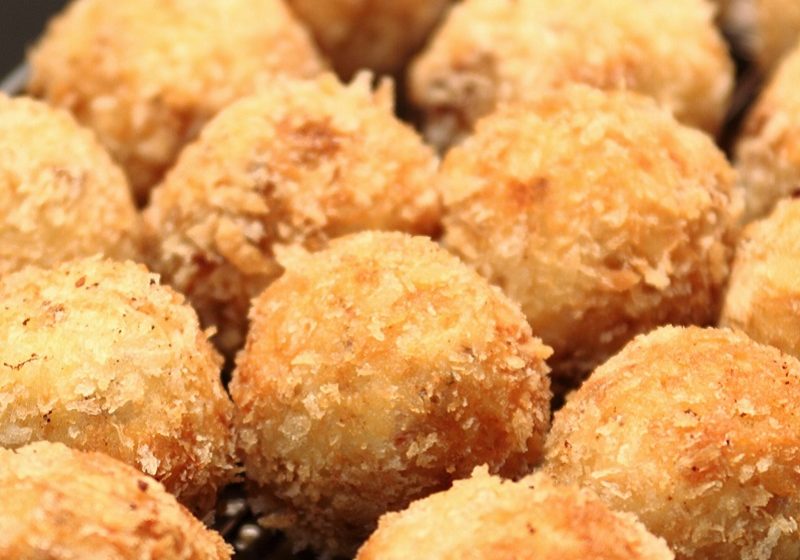 Ingredients
50g butter
110g grated Sparkenhoe Red Leicester
Salt and pepper
3 small eggs, beaten
150g white breadcrumbs
2-3 tbsps Panko breadcrumbs
oil for frying
How to make it
For an indulgent Christmas treat that are perfect for parties, or little bites for unexpected guests during the holidays, try these Sparkenhoe Red Leicester dumplings with Panko breadcrumbs. Serve with a side dip of Tomato Chilli Chutney.
Cream together butter and Sparkenhoe, adding a little salt and pepper
Beat in all but 2tbsps of the beaten egg
Add 1-2 tbsps of the white breadcrumbs
Work in remaining crumbs to make a stiff paste
Flour your hands in preparation to roll the mixture into small balls – approx 36
Leave the balls for an hour to rest
With a skewer, dip each ball in the remaining beaten egg, and then dip into the Panko
In a deep-rimmed frying pan heat 1 inch of oil
Cooking only a few at a time, place in oil to fry, turning regularly until golden
Drain on kitchen paper
Serve these panko dumplings with Cartwright and Butler's Tomato Chilli Chutney
Other party recipes:
These three cheese topped mushrooms are all in the Bath Organic Selection Box. Together they make a gorgeous mouthful packed with complex flavours.
Pin Wheels are great as party appetisers or as snacks, and they are simple to make and can even be frozen so that you can throw them in the oven when unexpected guests turn up.
Bresaola is a cured beef that comes from the Valtellina area of northern Italy. Normally served as an antipasti, this recipe uses it to create little goat's cheese parcels that work as a party canapé or just a tasty snack.