Classic Swiss Cheese Fondue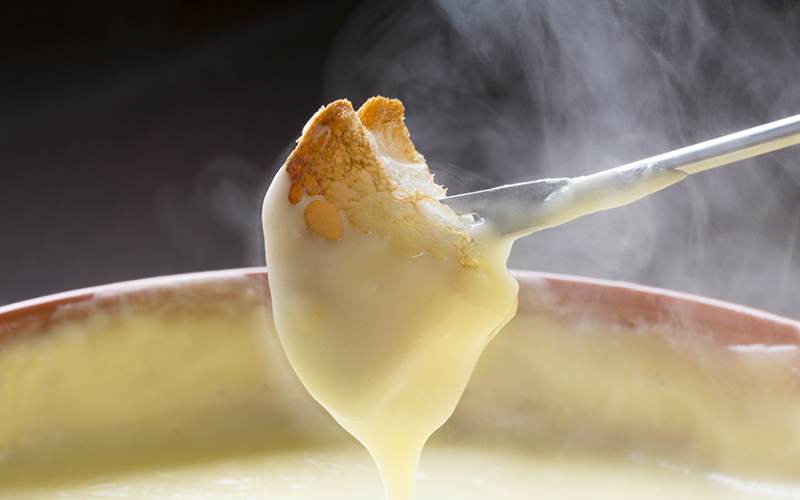 Ingredients
Serves 4
1 clove garlic, halved
290ml/½ pint white wine
1 tsp lemon juice
400g Fondue Mix
1 tsp cornflour
1 tbsp Kirsch
Cubed bread pieces, for dipping
How to make it
This fondue recipe is simple, fun and outrageously cheesy!
Rub halves of garlic around the inside of the fondue pot.
Add the white wine and lemon juice to the pot and heat until boiling.
Lower the heat and gradually stir in the grated cheeses until they're completely melted, stirring all the time.
Blend the Kirsch with the cornflour and add to the cheese mixture. Cook gently until the mixture is smooth making sure not to let it boil or it will burn.
Using the fondue forks, dip the bread cubes into the cheese and serve!
For fondue sets and girolles see our new range here
Love your fondue set? Try this chocolate fondue recipe!
Other alpine-inspired recipes
You don't need a huge raclette machine to enjoy raclette cheese at home, we've got LIFe Partyclette® Raclettes which allows your melted raclette cheese to sit in the middle of the party table, or you can buy raclette slices and lay them over your dish then place under the grill. Here's a recipe.
This tartiflette with Reblochon de Savoie is ideal with a crisp dry wine from Savoie or Switzerland, the same sort of wine you would drink with a fondue.
Have you own Alpine-fest with this tasty twist on traditional rösti. The parsnip adds a little sweetness to the savoury potato and nutty flavour of Gruyere.