Creamy Blue Cheese Gnocchi with Walnut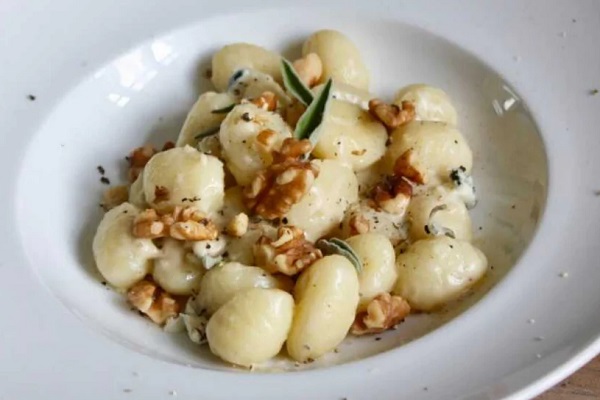 Ingredients
Serves 2
Prep time: 60-90 minutes
Cook time: 15 minutes
300g fresh gnocchi – follow Pasta Evangelists' guide to fresh, homemade gnocchi here
150ml single cream
1 clove garlic, minced
1 shallot, finely chopped
30g walnuts, roughly chopped
A handful of sage leaves
1 tbsp extra virgin olive oil
Nutmeg, to taste
Salt & Pepper, to taste
How to make it
This delicious blue cheese gnocchi recipe is inspired by Pasta Evangelists' giant gorgonzola & walnut stuffed gnocchi, served with sage butter and walnuts. Here, the filling and garnish is translated into a wickedly creamy and indulgent sauce, for diners on the hunt for a sumptuous, velvety gnocchi dish.
This recipe pays homage to the classic Italian pairing of formaggio blu e noci (blue cheese and walnuts), which take centre stage in this dish, complemented by crispy, earthy sage leaves and sweet nutmeg. This indulgent sauce then enrobes soft, chewy gnocchi dumplings, ensuring the perfect comforting yet sophisticated vegetarian pasta recipe. We have used Gorgonzola Dolce DOP for a slightly sweeter, creamy version.
Method
Once shaped, begin preparing your sauce. Start by heating your olive oil in a pan, over medium heat. Add your shallots, and sauté until translucent. Add the garlic and gently fry until fragrant and browned, being careful not to burn the mixture.
Roughly chop your sage leaves, and throw these in the pan. Ideally, we want our sage to be crispy and aromatic, so allow to fry for a couple of minutes.
Chefs tip: Once crisp, reserve a couple of sage morsels from the pan – these are delightful as a garnish.
Reduce the heat slightly, and add your cream. Once the cream is hot, stir in your cheese. Allow this to incorporate over the heat, then add a dash of nutmeg, as well as salt and pepper to taste. Simmer over a gentle heat for a couple of minutes, while you prepare your walnuts.
Place a shallow frying pan over medium heat. Toss in your chopped walnuts, and dry fry until toasted and golden.
Now is the time to cook your gnocchi. To do so, simply bring a pan of salted water to the boil, and add the gnocchi. Boil for 2-3 minutes, or until each of your gnocchi has risen to the water's surface.
Once cooked, drain your gnocchi, and add to the cream mixture. Stir to combine, until each gnocchi dumpling is completely coated in the velvety sauce.
To serve, garnish with your toasted walnuts, a couple of crispy-fried sage leaves and a sprinkling of vegetarian Italian hard cheese, and enjoy!
Blue Cheese Gnocchi Recipe courtesy of Pasta Evangelists