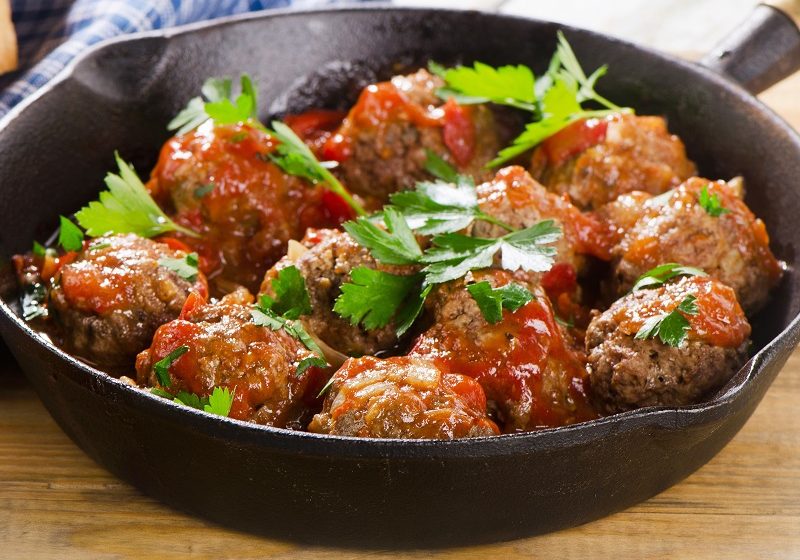 Ingredients
100g breadcrumbs – if using a hard loaf leave the breadcrumbs to soak in water for 2-3 minutes
Thyme, sage, mint and parsley – about 70 leaves in total if you're using fresh leaves, or 3 tablespoons – leave some for garnish
2 garlic cloves
2 large eggs
100g Pecorino Toscano
350g minced beef
350g minced pork
Oil for fryling
Salt and pepper
Mariana Sauce – homemade or shop bought
How to make it
Adding cheese to your meatballs gives them an extra bit of a bite and saltiness. Pecorino Toscano is an ideal meatball cheese as it's sweet and dryish and adds depth of flavour that mozzarella just can't achieve.
In a large bowl, add together the breadcrumbs, beaten eggs, chopped herbs, garlic cloves, salt and pepper, Pecorino, and minced meat
Mix well until the mixture is smooth
Use a spoon to shape the mixture into balls
When ready to fry, heat oil in a pan and fry the meatballs, turning occasionally so they brown on all sides
In another pan, heat your mariana sauce and as the meatballs cook, add them to the sauce
Cook for a further 35 minutes and serve with a pasta of your choice
Other recipes:
There is nothing quite like homemade garlic bread. We make ours extra cheesy by using Green Thunder which has additional flavours of garlic and garden herbs. The cheddar is strong enough to balance the garlic and all the flavours combined really packs a punch.
The pungent savoury and nutty flavour of Golden Cenarth combined with garlic and kicks of mustard-induced tang makes this pull apart bread a delectable superstar.
Poacher cheddar has an earthy and powerful taste that is nuttier than a mature cheddar with overtones of an aged alpine cheese. This flavour, combined with a chilli kick makes a great breadstick!