Montgomery's Cheddar Crackers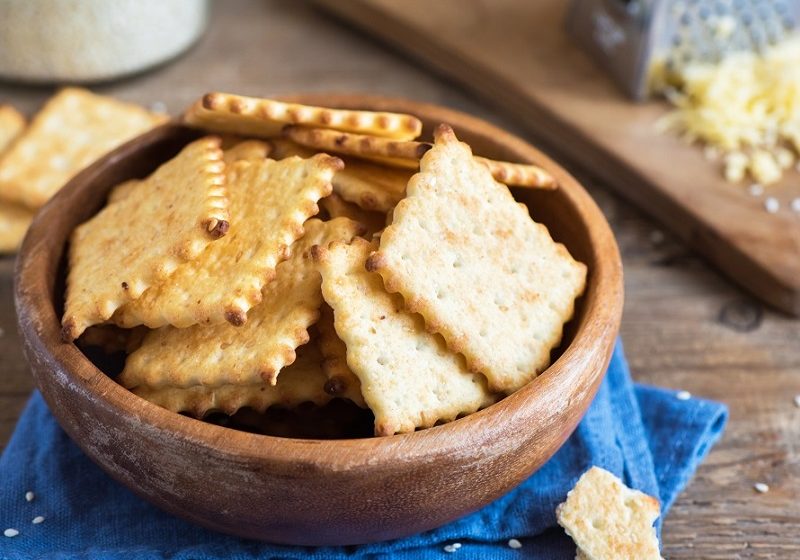 Ingredients
225g self-raising flour
1/2 tsp salt
75g margarine
5 tsp water
110g finely grated or crumbled Montgomery's Cheddar 
How to make it
Liven up your cheeseboard this Christmas with your own moreish, savoury crackers using Montgomery's Cheddar – a world-class, hand-made Cheddar with a distinctive flavour.
Preheat oven to 180°C (gas mark 5)
Mix the flour and salt in a large bowl, then using your hands mix in the margarine until it becomes a pliable dough – using the water as necessary until it becomes doughy
Leave to rest for 5 minutes
Roll out on to a floured worktop, so it becomes three times as long as it is wide
Sprinkle 20g of Montgomery on the bottom two-thirds of pastry and then fold the top third down
Fold again and turn once to the left
Finish rolling out and sprinkle another 20g of cheese as before, then fold and turn repeatedly until you use all the cheese
Divide the dough into two pieces, roll out thinly – approx 3mm
Prick well all over with fork
Cut into squares about 30cms width
Using the fork, crimp the very edges of the biscuits all around
Place on a very lightly greased baking tray, and place in oven for approx 15 mins
Allow the cheddar crackers to cool, then serve
Cheese Biscuits
If baking your own crackers seems like too much hard work, try this fabulous selection of Fudges best biscuits for cheese. Ideal for an evening in or to finish off a perfect dinner party. Contains:
Round Rosemary Biscuits bring to mind… a tangy goat's cheese, the creamiest brie, our favourite sour cream and chive dips, olives, a glass of vintage port.
Oat Crackers bring to mind…Our favourite, local, mature farmhouse Cheddar, a sweet onion marmalade, a generous wedge of Comte, a coarse pate, chunky salsa dips.
Malted Wheat Biscuits bring to mind… A delicious Blue Vinny from Dorset homemade chutney, figs, walnuts, hazelnuts.
Harvester Seeded Half Flatbreads bring to mind… The creamiest, warmed, melting Camembert and fresh, crisp, crunchy celery.