Parmesan fried brioche, cherry tomatoes and Cashel Blue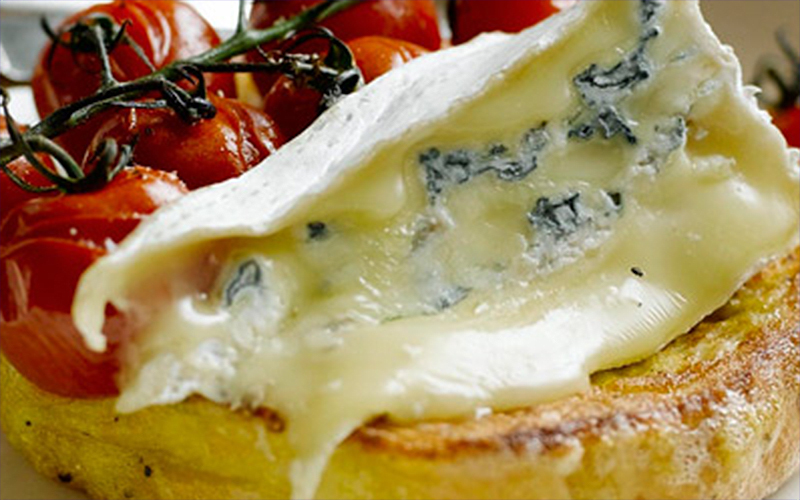 Ingredients
1 loaf of brioche
2 whole eggs
Grated Parmesan to taste
4-5 each red & yellow cherry tomatoes
Cashel Blue
How to make it
This fried brioche is dipped in egg and parmesan to make it extra delicious. Served with tomatoes for sweetness and Cashel Blue for saltiness.
Whisk the egg, Parmesan and seasoning together. Slice the brioche to the required size, dip into the egg mixture and shallow fry on both sides until golden brown.
Wipe out the pan with kitchen roll and add a little olive oil. Sauté the tomatoes with a little seasoning and drain onto paper.
Put the eggy fried brioche in the centre of the plate. Place cherry tomatoes on top and add a slice of Cashel Blue. Melt slightly under a pre-heated grill.
Recipe courtesy of www.simonweaver.net
Other recipes
Cashel Blue is ideal for a cheese sauce and even better with pasta. Mix in with chopped walnuts or pine nuts for a different twist.
Sweet caramelised onions and hints of savoury rosemary complement the saltiness of this blue cheese pizza, making it a delectable homemade dinner.
A good blue cheese burger has a high fat content for full flavour, and a generous helping of Cashel Blue on top! Served with grilled tomatoes.
Crozier Blue is the perfect blue to use for a blue cheese dressing with its rich, full and well-rounded flavour. Here's a recipe.