Pont l'Eveque Stuffed Baked Potatoes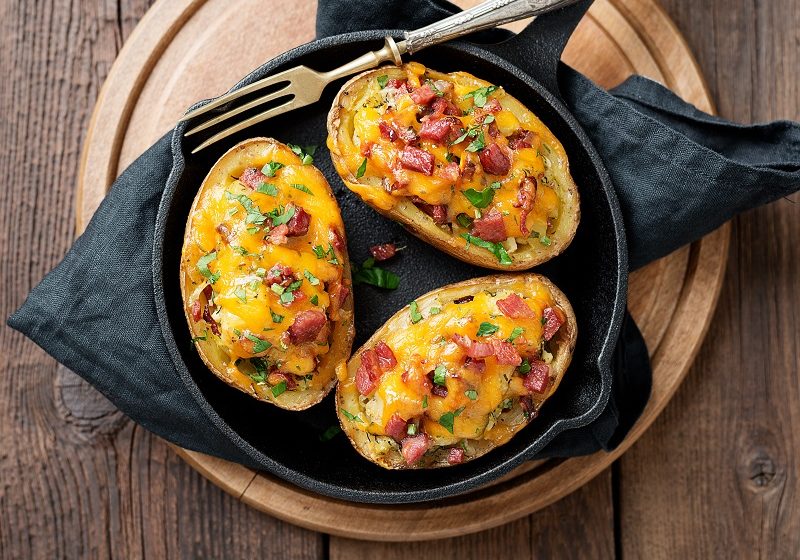 Ingredients
4 large potatoes
1 tbsp olive oil
1 tsp Kosher salt
1 tsp coarse black pepper
100g pancetta
1 minced garlic clove
3 tbsp crème fraîche
100g Pont l'Eveque cheese diced
1 tsp chopped fresh rosemary
1 tsp chopped fresh parsley
How to make it
These Pont l'Eveque stuffed baked potatoes have been cooked twice – once to cook the potato and skin, twice to cook the stuffing. Pont l'Eveque is sweet and mild, mixed with salty and strong pancetta makes the stuffing extra delicious.
Preheat oven to 200°C/ 400°F/Gas Mark 6
Wash potatoes and prick all over with a fork
Place in a baking dish and drizzle with olive oil, then season with half of the salt and pepper
Bake for 30 to 40 minutes or until tender
Remove and allow to cool slightly
While the potatoes are baking, heat a medium fry pan over medium heat, and add the pancetta
Fry until crispy and all the fat is rendered
Remove all but 1 tablespoon of the fat from the pan and add the garlic
Fry the garlic for 1 minute and set aside
Slice each potato in half and scoop out most of the flesh from each half
Place in a large bowl and add the pancetta, creme fraiche, Pont L'Eveque, minced rosemary, and the remaining salt and pepper
Mix well
Divide the potato mixture evenly between each potato skin and place back in the baking dish
Bake again at 170°C for 10 minutes or until golden brown on the top
Sprinkle with chopped parsley
Serve Pont L'Eveque stuffed baked potatoes with pork ribs or pan-fried steak, with a fresh green side salad
Recipe adapted from Chef's Mandala
Other recipes
Energise week night dinners with these Manchego and Chorizo stuffed sweet potatoes. Excellent with a side salad or steamed greens.
These cheese stuffed mushrooms also have a hint of garlic, but you could also add herbs, sun-dried tomatoes or bacon if you're not in a rush to get them in your mouth like we are!