Yarg Cheese Stuffed Mushrooms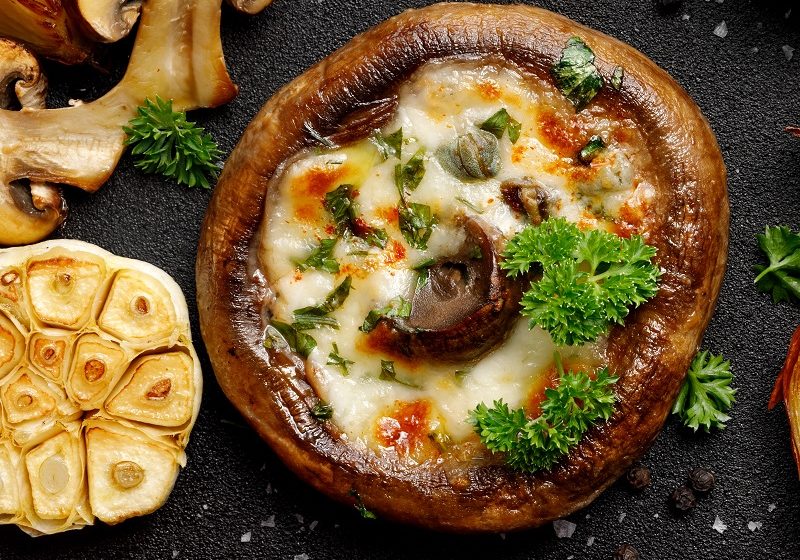 Ingredients
4 large Portobello mushrooms
100g Yarg
2-3 cloves of garlic
Butter
Oil
Salt and pepper
Parsley
How to make it
Yarg is very creamy and zesty, which is a great flavour to pair with the unami of mushrooms. These cheese stuffed mushrooms also have a hint of garlic, but you could also add herbs, sun-dried tomatoes or bacon if you're not in a rush to get them in your mouth like we are!
Wash the mushrooms and cut off the stems
Keep the stems and finely chop, along with the garlic – season to taste
Fry this mushroom and garlic mixture with butter
Brush oil on the bottom of the Portobello mushrooms
You can do these in the same frying pan, or you can use the grill
If using a grill, place under the grill bottom up first
After about 4-5 minutes, remove the mushrooms and place a small cube of butter in each
Place back under the grill for 2-3 mins
Remove, then spoon in the mushroom and garlic mixture
Coat with a generous helping of the Yarg
Place back under the grill for another 2-3 mins or until the cheese is browning and bubbling
Serve your cheese stuffed mushrooms with a sprinkling of chopped parsley
Fruit and vegetables are fantastic stuffed with cheese! Have you tried Baked Fig with Gorgonzola? or Pork and Pecorino Stuffed Aubergines?