Baked figs with Gorgonzola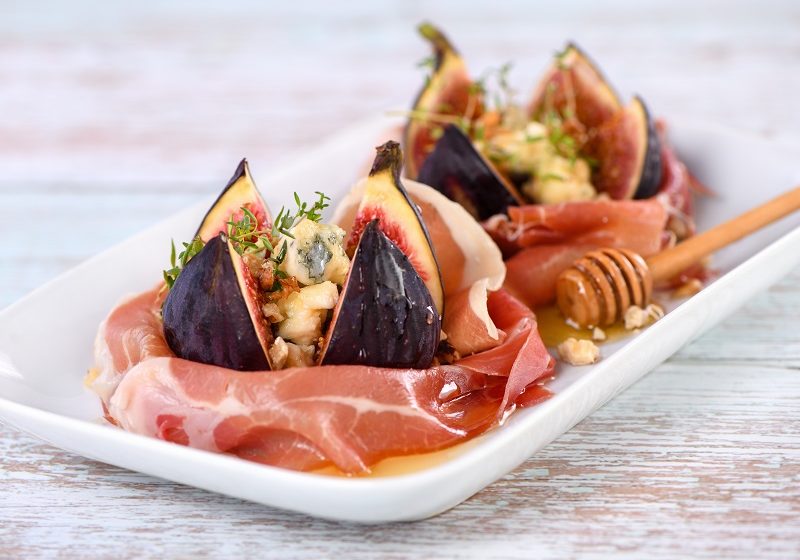 Ingredients
6 figs
6 thin slices of prosciutto
60g Gorgonzola Dolce DOP, cut into 6 pieces
Honey
Chopped walnuts
How to make it
This figs with Gorgonzola recipe could be both a starter and a dessert. It could even be a light lunch, or a snack. The sweet figs, creamy gorgonzola and salty prosciutto is a winning combination.
When selecting figs, choose those which are firm, plump with smooth unbroken skin, and free from bruises.
In this recipe we use Gorgonzola Dolce DOP, which is the creamier and sweeter version of Gorgonzola.
Recipe
Preheat the oven to 200°C/400°F/Gas Mark 6
Lightly oil a baking dish
Score a deep cross in the top of each fig
Lay one slice of prosciutto on a work surface
Roll the prosciutto around the fig, ensuring the base is covered and the top of the fig is visible over the prosciutto
Repeat with the remaining figs and prosciutto
Press Gorgonzola into the cavities of the figs
Place the figs in the dish and roast for 10-12 minutes until the cheese has melted
Serve drizzled with honey and a sprinkling of walnuts
Other recipes
This prosciutto wrapped brie recipe was originally a Paul Hollywood creation. It combines slightly sweet French bread with a creamy ham and cheese filling.  It makes a great shared starter or a party centrepiece.
Doesn't chicken stuffed with goat's cheese sound an absolute delight? How about wrapped in crispy prosciutto? Delicious!
This Gorgonzola Pasta Bake has a crusty walnut and bread topping which makes it like a crumble. With added vegetables, it's a great dinner option for the whole family.
Quiche is the perfect summertime meal as it can be served hot or cold, as a main meal or light bite. We use Gorgonzola Dolce DOP in this recipe which is the creamier and sweeter version of Gorgonzola.