Ragstone Log, Rosemary and Bacon Kebabs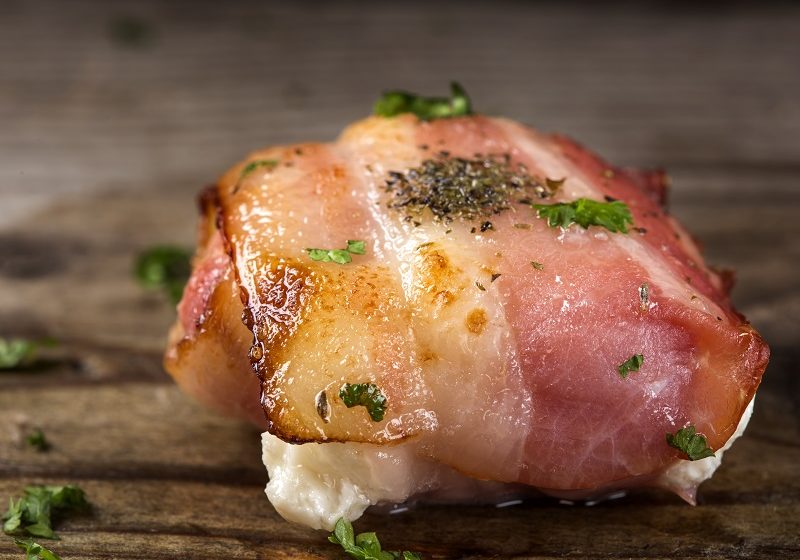 Ingredients
4-6 rashers of bacon
4 large sprigs of rosemary
2 red peppers
Salt and pepper
Oil
How to make it
Jamie Oliver started the trend of making kebabs using Rosemary sprigs and in this case, goat's cheese kebabs. They infuse the skewered food with a deep aroma which blends exquisitely with the creaminess of Ragstone Log.
Cut the red peppers into chunks, drizzle with oil and season
Strip the lower leaves off the rosemary sprigs
Slice the Ragstone Log into 1 inch pieces
Wrap each cheese 'slice' with a rasher of streaky bacon
Skewer the bacon wraps followed by the pepper chunks onto the rosemary sprigs
Continue the process until you've used everything up
Place the cheese kebabs on the barbecue for about 15 minutes
Serve with grilled flat bread and salad
Other Recipes
These Ragstone Log and pistachio balls make an excellent starter, or a snack for evening entertaining. The creamy Ragstone goat's cheese is well complimented by the savoury, salty, nutty pistachio flavours.
It's good to have a vegetarian choice when having a barbecue, though you can just as easily cook these brochettes under the grill. These Cheese Kebabs use tasty Farmhouse Cheddar cheese with ciabatta bread and plenty of chunky fresh vegetables.
For other barbecue ideas try this baked Tunworth. Tunworth has a long-lasting nutty and sweet milky flavour with the savouriness you'd expect from a Camembert-style. This This Jalapeño and Godminster cheddar cornbread is also excellent as a side to barbecues.