Hot Farmhouse Cheddar Kebabs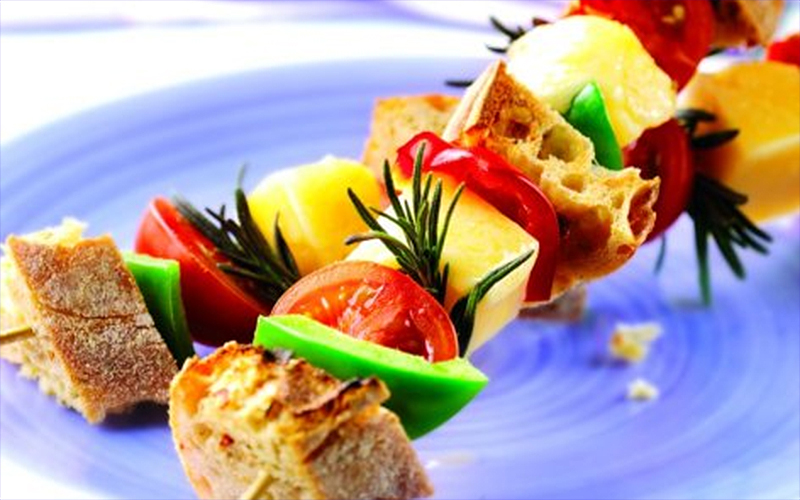 Ingredients
(Serves 4)
225g (8oz) Farmhouse Cheddar cheese, cut into 16 cubes
1/2 ciabatta loaf with sun-dried tomatoes or olives, cut into 16 chunks
16 cherry tomatoes
1 red pepper, deseeded and cut into chunks
1 green pepper, deseeded and cut into chunks
rosemary sprigs or fresh bay leaves
1 tablespoon olive oil
2 tablespoons lemon juice
salt and freshly ground black pepper
How to make it
It's good to have a vegetarian choice when having a barbecue – though you can just as easily cook these brochettes under the grill or in a char-grill pan. These Cheddar Kebabs uses tasty Farmhouse Cheddar cheese with ciabatta bread and plenty of chunky fresh vegetables.
Method:
1. Thread the cubes of Farmhouse Cheddar cheese onto 8 wooden kebab sticks with the chunks of ciabatta bread, tomatoes and peppers, alternating the pieces and adding a couple of rosemary sprigs or fresh bay leaves to each one.
2. Make the baste by mixing together the olive oil, lemon juice and seasoning.
3. Preheat the barbecue, grill or char-grill pan. Brush the kebabs with the lemon juice baste – stirring it first to make sure that the ingredients are blended. Cook the brochettes for about 2 – 3 minutes, turning often, until the cheese just begins to melt and the bread begins to toast.
Serve at once.
This Cheddar Kebabs recipe is courtesy of the British Cheese Board
Other recipes
Light, elegant and fragrant cheese crackers that you can serve with cheese or store and have as a savoury snack with a glass of something delicious.
Kebabs using Rosemary sprigs infuse the food with a deep aroma, whilst blends exquisitely with the creaminess of the Ragstone.