Jalapeño and Godminster cheddar cornbread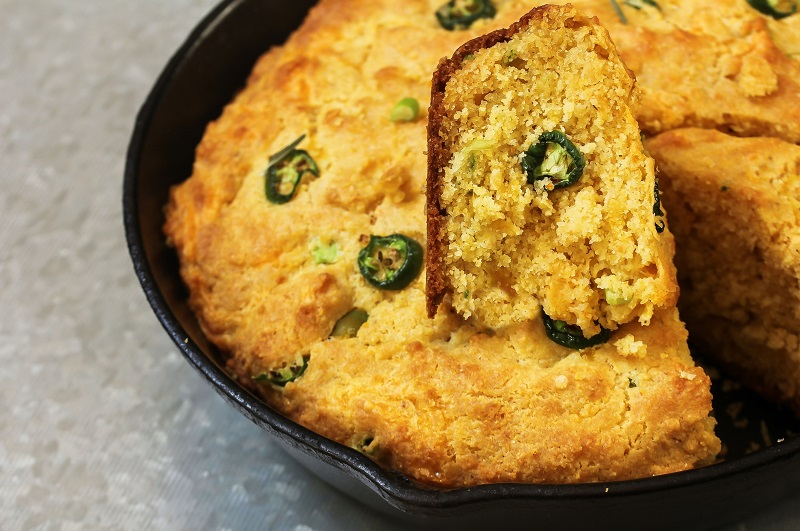 Ingredients
Serves 10
360g Cornmeal
25g Cornflour
3 tsp baking powder
2 tsp bicarbonate of soda
1 tsp salt
100g Godminster Cheddar
25g fresh jalapeños
340g tinned sweetcorn
570ml buttermilk
2 medium eggs
How to make it
This Jalapeño and Godminster cheddar cornbread has a crunchy buttery crust, a soft and fluffy inside, hits of spicy jalapeno, and a creamy, moreish cheese flavour. Cheddar Cornbread is the perfect accompaniment to BBQ'd meat, chilli or stews.
Preheat the oven to 180°C/ 160°C fan/ gas mark 4
Lightly grease a non-stick pan
Mix together the cornmeal, cornflour, baking powder, bicarbonate of soda and salt.
Add the Godminster Cheddar and jalapeños
In a separate bowl blend the buttermilk and eggs, then the sweetcorn
Mix the wet and dry ingredients until you have a single dough
Spoon the mixture into the pan and put in oven for 30-45 minutes
It's cooked when it's well risen and brown
Other Godminster Cheddar recipes:
This Three Cheese Heart-Shaped Pizza has a crispy base with a nice thick crust. The three cheeses give you mouthwatering flavour with every bite.
Cauliflower cheese is one of those dishes that is so versatile – it works great as a side vegetable for any main meal, as a replacement carb or even as a snack. We like to use Smoked Godminster Cheddar for an extra kick of flavour.
Other bread recipes:
Golden Cenarth and Mustard Pull Apart Bread – has a pungent savoury and nutty flavour which combined with garlic and kicks of mustard-induced tang, makes this dish a delectable superstar.
Green Thunder Cheddar Cheesy Garlic Bread is extra cheesy from the Green Thunder which has additional flavours of garlic and garden herbs. The cheddar is strong enough to balance the garlic and all the flavours combined really packs a punch.