Smoked Cheddar Cauliflower Cheese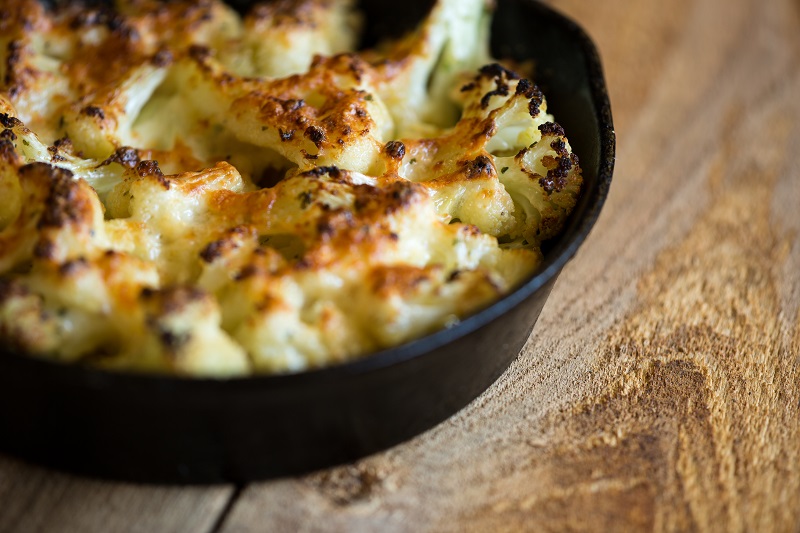 Ingredients
1 Cauliflower
75g butter
50g plain flour
750ml milk
1 teaspoon English Mustard
15og Smoked Godminster Cheddar
Black pepper
How to make it
Cheddar Cauliflower cheese is one of those dishes that is so versatile – it works great as a side vegetable for any main meal, as a replacement carb or even as a snack. It works well with any strong cheddar, but we like to use Smoked Godminster Cheddar for an extra kick of flavour.
Cut the cauliflower into small florets – you can include the tops of the leaves too if you wish
Parboil in salted water for around 8 minutes
drain and place in an oven proof dish
In a separate pan, melt the butter
Take off the heat and add the flour – this will make a paste (roux) once fully mixed
Place back on a medium heat and begin adding milk slowly, ensuring each time you add the milk it's absorbed by the paste
Stir constantly throughout to ensure there are no lumps
Add the mustard
Season with black pepper
Add most of the grated Smoked Godminster Cheddar
Stir until well mixed
pour over the cauliflower
Sprinkle a handful of the grated cheese over the top
Grill for 10-15 mins under a medium grill, or until browning and bubbling
Cheddar Cauliflower Cheese is great served with roasts, but is also an ideal accompaniment to these recipes:
Rôti de veau Orloff is a classic French dish that works great as an alternative roast option. Filled with deliciously tangy Le Gruyere and salty bacon and served on a platter of vegetables, this looks and tastes the part.
Pork loin is one of the easiest cuts of meat to cook for dinner as it is juicy and tender. This recipe uses Berkswell for its sweet and dryish taste.