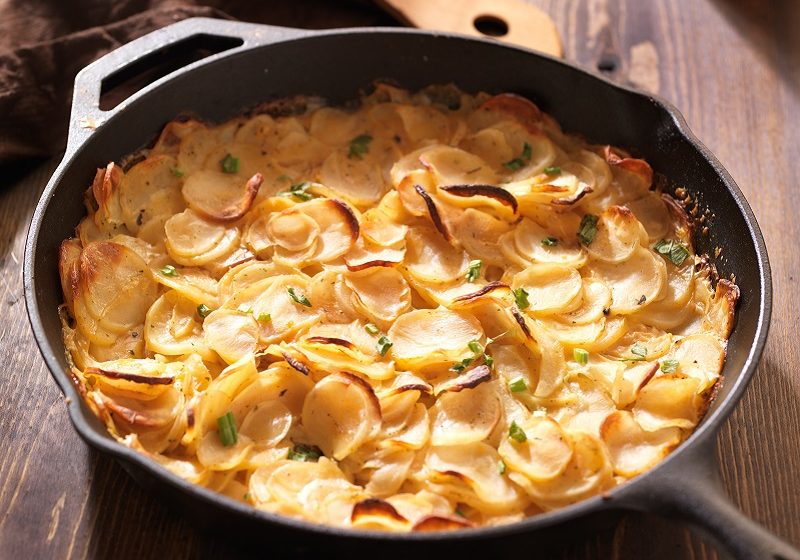 Ingredients
230g Stinking Bishop
2kg white potatoes
250ml whole milk
250ml cream
1 tsp salt
30g butter
1 clove garlic, chopped in half
How to make it
Cheese gratin is already dreamy, so paired with gorgeously creamy and sweet Stinking Bishop takes this Gratin to a whole new level. Stinking Bishop Gratin is great with loads of dishes, but particularly good with lamb.
Preheat the oven to 180°C/160°C fan/gas 4
Peel the potatoes then finely slice them as evenly as possible
Rinse the potato slices with cold water
Spread the slices out on a clean tea towel and pat dry
Lightly season with salt and pepper
In a large saucepan, bring the milk and cream to the boil, then simmer
Add the potato slices and stir gently
Rub butter around a shallow ovenproof dish
Rub the garlic clove around the dish
Transfer 1/3 of the potatoes into the prepared dish and spread out evenly.
Top with a half of the sliced Stinking Bishop
Repeat with another layer of potatoes, and another layer of cheese
Finish with a potato layer
Pour over the remaining milk from the saucepan
Bake for 1 & 1⁄4 hours
Let the gratin rest for 10 minutes before serving
Other recipes
Don't let the name put you off this wonderful recipe – Stinking Bishop is an incredibly special cheese that everyone should try once in their lives. This wonderful tart is a recipe people will be asking you to make it time and time again…
Earthy mushrooms, moreish linguine and sweet (and extremely pongy!) Stinking Bishop are the core components of this delicious dish.
This rich and filling three cheese Salami Gratin is a meal in itself – ideal for a cold winters night, and uses the very best of our Alpine cheeses – Comté and Gruyère. Serve with a crisp green salad.