Three Cheese Gratin with Salami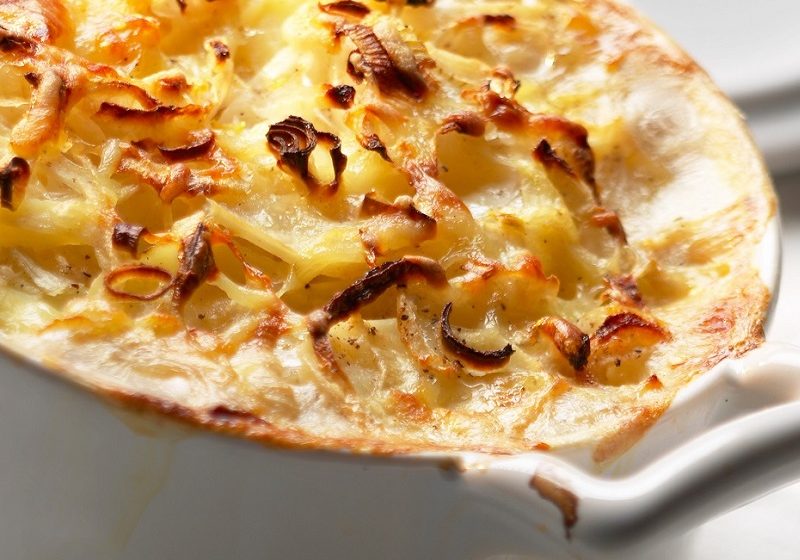 Ingredients
700g potatoes
salt and pepper
2 eggs
50g of Comte, grated
25g butter
6 tomatoes, skinned and sliced
1 small Onion, sliced
100g Mozzarella
100g Le Gruyere Switzerland AOP, sliced
100g Salami, rinded and chopped
2tbsp chopped fresh basil
How to make it
This rich and filling three cheese Gratin with salami is a meal in itself – ideal for a cold winters night, and uses the very best of our Alpine cheeses – Comté and Le Gruyere. Serve with a crisp green salad.
Preheat oven to 190°C
Boil the potatoes (in their skins) in salted water until tender (approx 20mins)
Drain the potatoes and leave until cool enough to handle, then peel off the skins
In a bowl, mash potatoes then add the eggs, Comté, salt and pepper. Mix well
Brush the inside of a large gratin dish with some of the butter and spoon half of the mash potato into the bottom of the dish
Cover with half of the tomato slices, half of the mozzarella, the sliced Gruyère, chopped onion then the chopped Salami
Sprinkle each later with the basil, salt and pepper to taste
Repeat the layer of potato, tomato, onion, cheese and salami, remembering to sprinkle with basil
Make sure you finish with a thin layer of potato
Dot with the remaining butter, then bake in oven for 25-30mins until golden brown and bubbling
Serve the cheese gratin from the dish with a crisp green salad
Other recipes:
Cheddar Au Gratin potatoes perfectly complement many different meat dishes and when using Lincolnshire Poacher, you get an earthy, powerful kick of flavour.
This tartiflette with Reblochon de Savoie is ideal with a crisp dry wine from Savoie or Switzerland.