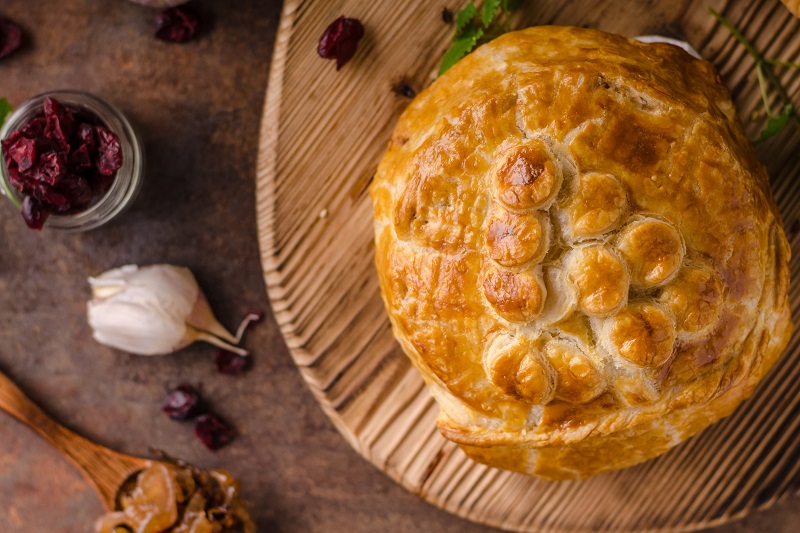 Ingredients
Serves 4
2 packs of 250g puff pastry
350g Wigmore 
Salt and black pepper
50g dried cranberries
2 eggs, beaten
How to make it
Wigmore is sweet and creamy, it oozes quality and the texture is incomparable. Imagine then, this delectable cheese wrapped in puff pastry, stuffed with cranberries and baked to perfection… and all this could be yours in this Cheese En Croute!
Prepare a sheet of baking parchment on an oven tray
Ensure the puff pastry is at room temperature
Unroll and lay out smoothly on a clean work surface
Place the Wigmore in the centre of the pastry and cut around the cheese approx 1 inch
Season the cheese with salt, pepper and dried cranberries
Pull the pastry up around the edges of the cheese securing the pastry around the edges to make a bowl
Egg wash the top rim of the pastry
Cut another, bigger circle out of the second sheet of pastry, leaving approx 2 inches diameter
Place the second circle over the cheese and mould into the pastry sides using the egg wash so that it's completely covered
With the remaining pastry create shapes such as balls, and using egg wash place on top of the parcel
Finish by covering all exposed top with egg wash
Place the cheese en croute on an oven tray and bake at 200°C/180°C fan/Gas Mark 6) for approx 20 minutes, or until golden.