Aged in the Somerset Caves of Wookey Hole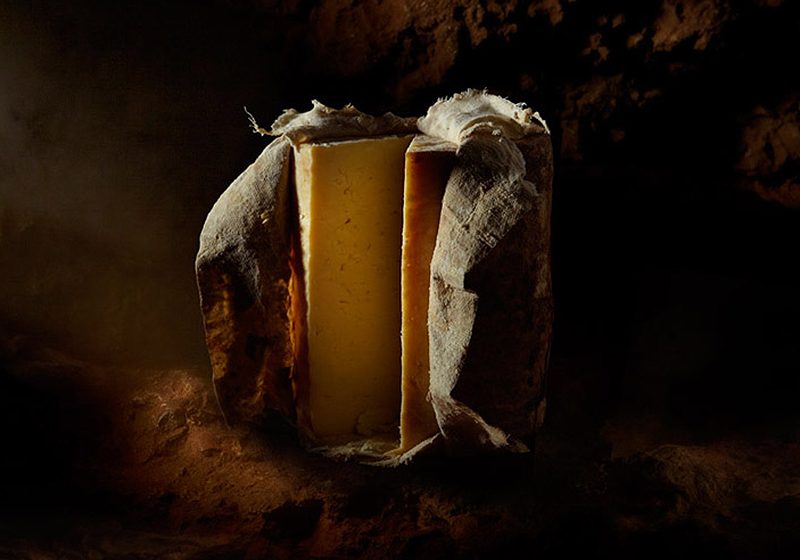 Wookey hole Cave Aged Cheddar is an award-winning West Country Farmhouse cheddar with a nutty, tangy flavour. It is aged for up to 3 months in Wookey Hole Caves. and produced from milk sourced only from Dorset.
Enhanced flavour
If you put an onion in the fridge and put some cheese next to it, after a day or so, the cheese will pick up the flavour of the onion. The same happens when you store cheese in a cave, the cheese absorbs the aromas in the air and develops a flavour from the cave. The damp, stony air gives many cave-aged cheeses a distinct taste and aroma such as Roquefort and Kaltbach Gruyere. This is especially true with this traditional West Country Farmhouse Cheddar, matured in the magnificent underground spectacle that is Wookey Hole Caves.
Wookey hole Cave Aged Cheddar Ingredients
The key ingredient for this unique cheddar is the highest quality rich milk sourced from dairy cows that graze the lush pastures of the surrounding countryside. The cheese is made to traditional methods (known as cheddaring) by a highly skilled team of cheesemakers. Each stage of the process is performed by hand, from the turning of the curds to the wrapping of each truckle in cheesecloth coated in lard.
The Cheddars are then taken to the Somerset Caves, where the consistent temperature (11°C) and humidity makes for a perfect environment for the cheese to mature naturally. This also ensures they remain mouthwateringly moist and packed full of the distinctive, earthy and nutty flavours of the Caves. If you like your cheddar extra strong, then it needs to be matured for up to 15 months, but it's certainly worth the wait for a fuller flavour.
Protected Designation of Origin
There are only 5-6 farms left in the UK making Farmhouse Cheddar and Ford Farm, Dorset is the only one storing and maturing it in the Wookey Hole Caves. Dorset is one of only four counties where West Country Farmhouse Cheddar can officially be made and gain eligibility to carry the PDO logo. This stands for Protected Designation of Origin. It only applies to cheese made by farms that use their own milk, make the cheese in the traditional way and are based in Somerset, Dorset, Devon, or Cornwall. You can spot a PDO Cheddar by the yellow and blue sign displayed on the Farmhouse Cheddar packs.
To find out more about how Wookey Hole Cave-Aged Cheddar is made, visit its own website here. If you'd like to try it and savour the flavours of underground Somerset then you can buy Wookey Hole Cave Aged Cheddar here.
Otherwise, why not try making our gorgeous new recipe Butternut Squash & Sage Mac 'n' Cheese with Wookey Hole Cave Aged Cheddar.