Chicken and Gorgonzola Tortellini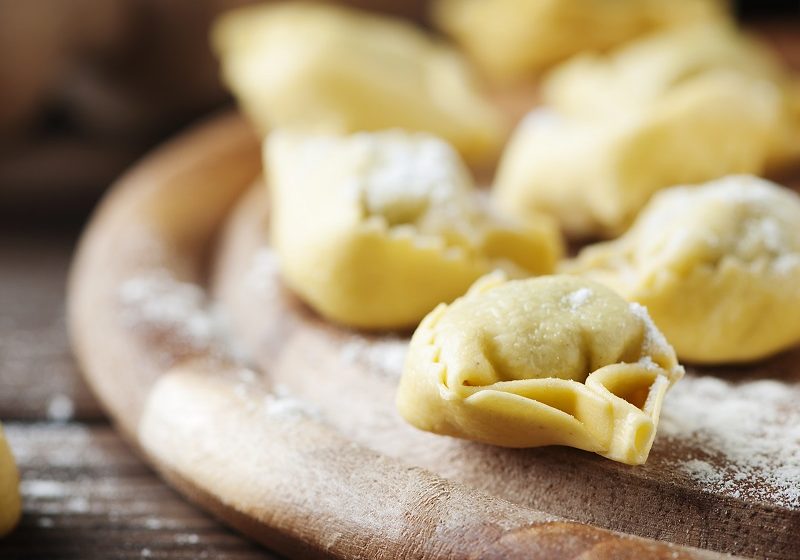 Ingredients
Serves 4
600g all-purpose flour
6 large free-range eggs
salt and pepper
a bunch of fresh, flat-leaved parsley, roughly chopped (leave a piece for the garnish)
juice of 1 lemon
A handful of freshly grated Comte
Olive oil
How to make it
Pasta can be surprisingly easy to make, and tastes best when it's made fresh. Roast chicken and Gorgonzola make a delicious filling. Serve it with just a knob of butter, some black pepper and garlic bread for a hearty, tasty dinner.
Chicken:
Roast 2 chicken thighs by seasoning and placing the chicken into a roasting tin covered with butter knobs and a lemon inserted. Cook as per the instructions.
You can use pre-roasted chicken, or the leftovers from your Sunday roast.
Once cooked and cooled, pick the meat off the chicken leg and thigh and chop finely
Place in a bowl and stir in the Gorgonzola, chopped parsley stalks, lemon juice and Comte, then season.
Pasta:
Place the flour in a bowl and make a well in the centre
In a separate bowl (or if you're feeling brave, in the well) crack the eggs and beat them with a fork. Pour the egg mixture into the well
Mix the eggs with the flour using your fingers, a little at a time, until it's all combined
Knead the dough together until it becomes a big lump of dough
If you don't have a pasta machine, place the dough on a floured work surface and begin kneading until it begins to feel smooth and silky
Wrap it in clingfilm and rest for half an hour
If you've got a pasta machine, clamp it to a work surface and set it to it's widest setting
Roll the lump of pasta through the machine, flouring it along the way if it sticks. Roll the dough again and again, folding it and feeding it through until it begins to feel smooth and silky
Assembly:
Cut the pasta sheet into 10cm/4inch squares
Place a teaspoon of filling in the centre of each one
Brush the pasta lightly with water
Fold the square in half, corner to corner, enclosing the filling
Mould around the filling pushing out any air bubbles
With the flat edge of the tortellini facing you, roll once towards the tip
Fold the two side flaps around the filling and squeeze together
To cook:
Cook the Tortellini in boiling water with a drop of oil for 3-4 minutes, until it springs to the surface and looks cooked.
Serve with a knob of butter, fresh black pepper, a sprig of parsley, and a side of garlic bread.