Figs with Manchego and walnuts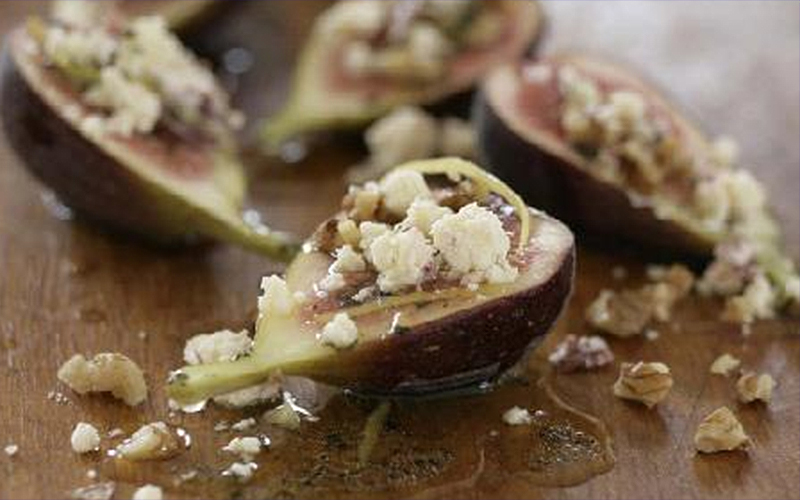 Ingredients
Serves 6
6 fresh figs, halved
Juice and rind of 1 lemon
3 tbsp olive oil
1tsp mint sauce
150g Manchego Cheese
25g walnut pieces
Black pepper
How to make it
The sticky sweetness of figs is perfectly accompanied with salty and dry Manchego. Figs with Manchego could be a great addition to a cheeseboard or as a party canape.
1. Arrange the figs over a board or platter.
2. Place the lemon rind and juice in a screw top jar. Add the olive oil and the mint sauce. Shake well.
3. Crumble and scatter the cheese over the figs with the nuts and drizzle with the dressing. Season with black pepper and serve.
(Courtesy of the British Cheese Board)
The perfect wine for this pretty fabulous dish is the spectacular Nu Allonge Cava. A Spanish light sparkling wine, it's packed full of subtle citrus flavours which pairs quite nicely with the nutty and caramel taste of a beautiful Manchego. Prefer a good red wine with your cheese? Try Capanes Sense Cap, a delightfully expressive red blend of Garnacha, Syrah and Merlot from Spain. A real treat for the taste buds, it's full of fruity and very delicious flavours and is light enough not to overpower a Manchego DOC.
Other recipes
Enchiladas make an excellent mid-week dinner that the whole family can enjoy. This version uses turkey making it a little healthier, and the nutty, buttery and mature Manchego adds wonderful depth of flavour.
Quesadillas are really easy to make and incredibly delicious. The recipe comes from Mexico so it's only right to use a Spanish cheese and Manchego hits the spot with its nutty and caramel flavours.
Manchego DOC is wonderfully nutty with caramel flavour, which is why we recommend using this in your dauphinoise recipe. It's the perfect side dish to roasted meat and steamed green vegetables.